Image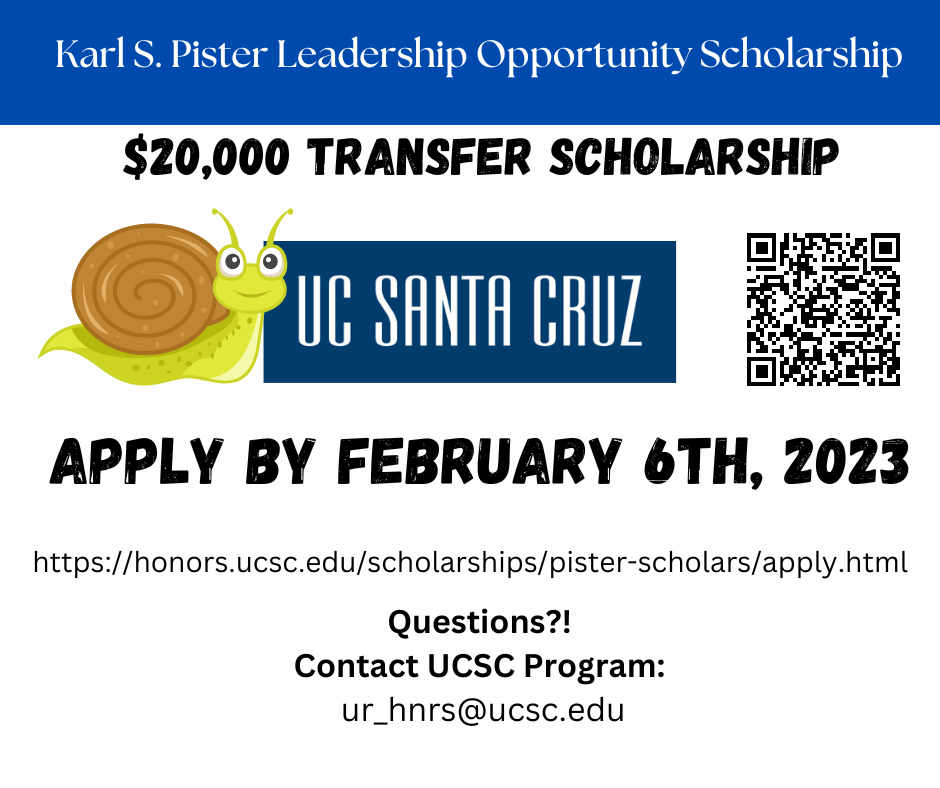 The Karl S. Pister Leadership Opportunity Program at UC Santa Cruz provides an award of up to $20,000 distributed over two years, mentoring and academic support, and assistance in finding paid or volunteer summer work experience.  
UC Santa Cruz established the Pister Leadership Opportunity Program to enable community college transfer students to complete their undergraduate studies at UC Santa Cruz. The program is for junior-level UC transfer-eligible students who: 
Eligibility Criteria  
Show exceptional achievement through academic and extracurricular accomplishments despite adverse socioeconomic conditions; 
Demonstrate an involvement in activities that assist and improve the lives of others.  
Exhibit outstanding leadership qualities that reflect the ideals of the Pister Leadership Opportunity Program; 
Because of financial need, would not otherwise be able to attend UC Santa Cruz; 
Qualify for Fall 2023 admission to UCSC as a new junior transfer student. 
IMPORTANT: Applicants must access the application using a google account. The google email account will be the email address that UC Santa Cruz will use for all application communication. 
Students who qualify for the California Dream Act continue to be eligible for this award, but students on a non-immigrant visa (such as F-1, J-1) are not eligible. 
How to Apply 
If you have any questions about the award, please feel free to contact Don Bard, UC Santa Cruz Coordinator of Undergraduate Honors and Research Opportunities, at ur_hnrs@ucsc.edu