Overview.
This degree reflects serious, sustained study and achievement in foundational concepts of two-dimensional arts and graphic design.  Hands-on studio practice, digital media skills and art history courses are required to fully engage students in the language of the visual arts and to introduce students to various theoretical approaches of art and design.  Students must complete each major course and major elective course with a grade of 'C' or better to be awarded the degree.
Image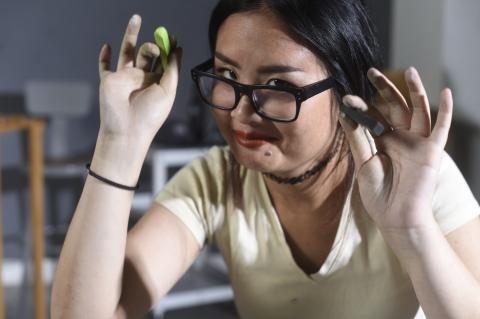 Program Learning Outcomes
Describe and analyze works of art and design using vocabulary specific to the visual arts.
Demonstrate technical proficiency in handling various art and design materials, such as cutting tools, pasting options, duplicating processes, various drawing and painting media, digital media software, presentation materials and the health and safety standards related to these materials.
Demonstrate technical skills in drawing, including drawing naturalistically from the observed world, drawing from the imagination, and applying systems of linear perspective.
Demonstrate a working knowledge of the elements and principles of art and design and the dynamics of composition.
Formulate works of art and design culling from various visual resources.
Compose works of art and design using computer software programs.
Demonstrate proficiency in critical thinking, problems solving, group interaction, and self-discipline to create works of art and design.
Analyze how form affects content in works of art and implement design changes to strengthen this relationship.
Evaluate their work and the work of others in terms of how art and design are a reflection of what we value, personally, socially and culturally.
Required Courses
Major Requirements
Course List

| Course | Title | Units |
| --- | --- | --- |
| | Two Dimensional Design | 3 |
| | Three Dimensional Design | 3 |
| ART 014 |   | 3 |
| | Beginning Drawing | 3 |
| | Graphic Design I | 3 |
| | Introduction to Digital Video | 3 |
| | Life Drawing I | 3 |
| ART 060 |   | 3 |
| | Art and Design Portfolio Preparation | 3 |
| | Survey of Art History: Prehistoric Through Gothic | 3 |
| | Survey of Art History: Renaissance to the Present | 3 |
Major Electives
Course List
Course
Title
Units
Select 6 units from the following:
6
Expressive Drawing
 
Representational Drawing
 

ART 041

 
 
Life Drawing II
 

ART 061

 
 
Total Requirements 
Course List
Course
Title
Units
Major Requirements
33
Major Electives
6
General Education Requirements
21
Total Units
60