About OASISS.
Our purpose is to provide AB540/DREAMer students with the necessary tools and information to succeed in pursuing a higher education and professional career.
SERVICES 
These services are available to OASISS Students:
Bilingual Staff (English & Spanish)
Counseling (Academic, Career, and Personal)
Financial Aid Application Assistance
Computer Lab
Free Printing
Semester Book Lending
Semester Technology Lending (laptops & calculators)
Referrals to Community & Campus Resources
Fellowship Opportunities
Specialized Workshops
EVC Bookstore Voucher
Free Immigration Legal Services
OASISS Graduation Stole & Gifts
Graduation Cap & Gown
To submit your OASISS application, you may drop it off in person at SC-214 or email it to evc.oasiss@evc.edu (you will receive an email if eligible or not eligible).
*Please note that your OASISS application must be submitted every semester.
Image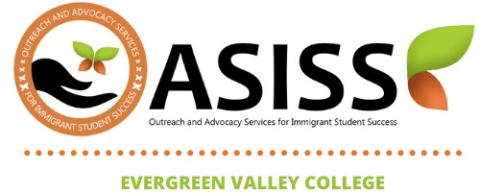 Tools & Resources
Resources to Support + Strengthen Your Studies
Our Staff.
OASISS Program Coordinator
Image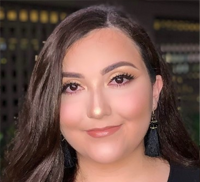 Hi! I'm Paulina and I can help you with: 
AB 540 applications and information
Applying for financial aid
Scholarships and fellowships 
Community and campus referrals 
Organizing workshops you'd like to see 
General questions
If you have any questions, feel free to call 408-274-7900 x6499 or email us at evc.oasiss@evc.edu
OASISS Counselor
Image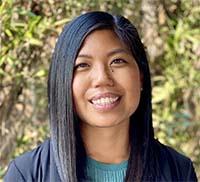 Hi, I'm Kathleen! Do you have questions about your academic education plan? Do you want to transfer? Let's talk about your education goals! Schedule an appointment with me by clicking the link below! 
https://evesars.evc.edu/SARS/OASISS_Online/eSARS.ASP
Just have a brief question? Join my drop-in time: Mondays at 12pm & Wednesdays at 5pm (expect Sept. 4, Sept. 25 and Nov. 22)
OASISS Career Coach
Hi! I'm Karla. Launch and grow your career regardless of your status! We'll work together so you can:
Image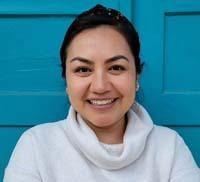 Have an effective resume & cover letter
Audit your social media for career success 
Offer consulting services
Negotiate your salary
Start a business
And, more...
You can schedule a Zoom appointment at 
https://calendly.com/karlareyesmba/coachingfall2023 
If none of the times on her calendar work for you, please email karlac.reyes@gmail.com with other times that work better for you. Please be mindful that a time change is not guaranteed and is contingent on availability. 
Keep In Touch.
Student Services Center, Room SC-214.
Monday - Thursday: 8am-5pm
Friday: 8am-1pm
P: 408-274-7900 x6079
E: evc.oasiss@evc.edu
OASISS History.
Image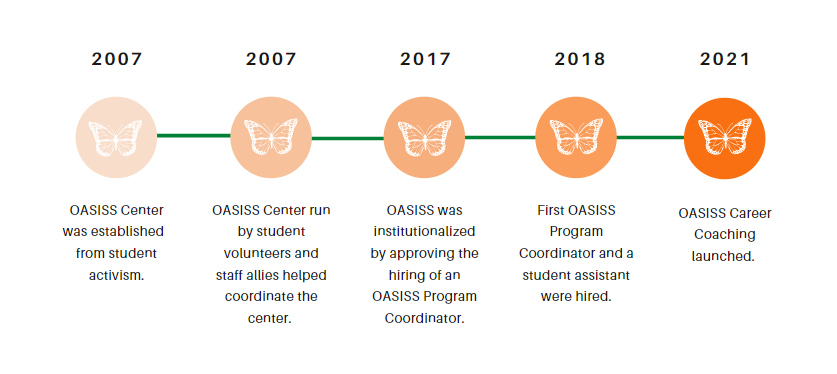 Steps to Apply to EVC as an AB 540 Student.
Here are the steps to take classes at EVC if you are an AB 540 student. 
AB 540 definition: Assembly Bill 540 is a California law that allows eligible students to pay in-state tuition and access state-based financial aid at the State's institutions of higher education. Undocumented students who do not apply for AB 540 are charged non-resident/international student fees which is more than eight times greater than in-state tuition!
If you do not qualify for AB 540, meet with our program coordinator to talk about your options! 
Step 1: Apply for AB 540 Status: California Nonresident Tuition Exemption Application
Step 2: After you are approved as an AB 540 student at EVC, you can apply for OASISS. You can submit your OASISS application in-person at SC-214 or via email at evc.oasiss@evc.edu! 
Step 3: After you are approved as an AB 540 student, you can also apply for financial aid. If you need assistance with the application, reach out to us at evc.oasiss@evc.edu or EVC's Financial Aid Office at evcfa@evc.edu
Step 4: Schedule an appointment with a counselor to figure out your classes. We can help you schedule an appointment via e-mail at evc.oasiss@evc.edu! 
Step 5: Register for your classes! If you need help, you can schedule a meeting with us at evc.oasiss@evc.edu!
 
TAX INFORMATION FOR UNDOCUMENTED STUDENTS
If you are planning on filing taxes this year, you can claim tuition paid to EVC or SJCC on your taxes for a student credit or deduction. If you cannot find your 1098-T form on MyWeb, please contact the District office at 1098T@sjeccd.edu.
EMPLOYMENT OPTIONS FOR IMMIGRANTS
A ITIN is a taxpayer identification number for individuals who are NOT U.S. citizens or permanent residents. To apply for a ITIN please visit: https://www.irs.gov/pub/irs-pdf/fw7.pdf