Generic RN Application
Important changes to the Generic RN program application timeframes:
For the 2023-2024 school year only, the EVC Nursing program will accept applications to the Generic RN program during an extended period from October 1st, 2023 to December 31st, 2023. Please note that this will not affect the start date for those applying this year. Students applying within this timeframe applying for Fall 2024 or Spring 2025 placement. Students will be notified of their admissions status as soon as possible, most likely in April of 2024. The rationale for this change in application cycles is twofold. First, it allows fall courses to be included in our multicriteria scoring. Secondly, it moves the timeline between the application period and your start date closer together. For the 2024-2025 school year, the EVC Nursing application cycle for the Generic RN program will occur in Spring only, from January 15th through the end of February. 
Application School Year
Generic RN Program Application Period
2023-2024
October 1st, 2023 to December 31st, 2023
2024-2025 
(and thereafter)
January 15th, 2025 to the end of February 2025
The Generic RN program is EVC Nursing's flagship 2-year Associate's Degree in Nursing program.
A link to the online Generic RN program application can be found on this page during the application window.
Applications are for entry into the Fall or Spring of the school year following the one in which the application is submitted. For example, if you apply during the 2023-2024 school year, you are applying for placement in Fall 2024/Spring 2025. 
Information about requirements for applying to the program, how we rank applicants for admission and more information can be found by clicking on the tabs below. 
Image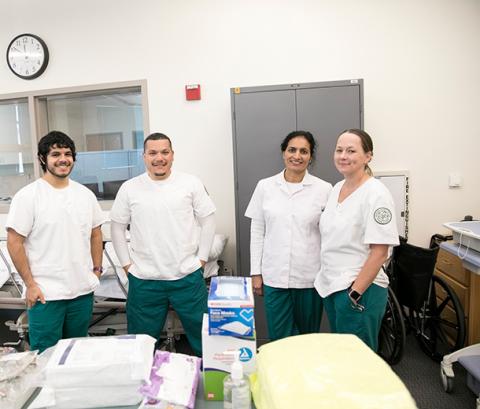 Nursing Application Requirements
In order to be eligible to apply to the EVC Nursing program all applicants must:
1. Complete the following biology prerequisites (or equivalent with lab component), with a cumulative GPA of 2.5 or above:
| | | |
| --- | --- | --- |
| BIOL 071 | Human Anatomy | 4 Semester Units Minimum |
| BIOL 072 | Human Physiology | 4 Semester Units Minimum |
| BIOL 074 | General Microbiology  | 4 Semester Units Minimum |
Please note that to the impact of COVID-19 and the sudden transition to a virtual campus, the EVC Nursing program will accept prerequisite science courses taken online during from Spring 2020 to Summer 2022.
And please note the EVC Nursing program will not accept international prerequisite coursework. All science prerequisites must be completed at regionally accredited institutions. 
2. Complete the below English requirement (or equivalent) with a grade of  'C' or better:
| | | |
| --- | --- | --- |
| ENGL 001A | English Composition | 3 Semester Units Minimum |
If you upload transcripts showing conferral of a Bachelor's degree from a regionally accredited college or university, you will be credited for the English 1A requirement.
Policy on repeated prerequisite coursework: applicants who have repeated a prerequisite course and have received multiple letter grades for the course (or its equivalents) will only have the most recently-awarded grade considered. For example, if an applicant took Human Anatomy in Spring 2020 and received a 'C' grade and then took Human Anatomy again in Fall 2022 and received an 'A' grade, EVC Nursing will consider the applicant as having a 'A' grade for Human Anatomy. (This new policy replaces the old repeated prerequisite coursework policy, which stated that EVC Nursing would average the two grades unless the transcript indicated grade forgiveness.)
Applicants to the EVC Nursing program must upload unofficial copies of their transcripts showing completion of prerequisite coursework to the Nursing application and send official transcripts (electronic or paper) to the Nursing Department. 
3. Pass the Test for Essential Academic Skills [TEAS] Version 7 exam with a score of 62% or higher. 
EVC Nursing will only accept the first passing score on the TEAS. 
See atitesting.com/teas to get more information on the TEAS, to obtain study materials or sign up for an exam date. 
Applicants to the EVC Nursing program will need to upload unofficial TEAS score reports on the Nursing application during the application window. Students admitted to the EVC Nursing program will be asked to submit an official TEAS transcript after they are conditionally accepted. For more information, see the "Transcript Submission" tab below. 
Important Course Equivalency Verification Instructions
Before you apply to the EVC Nursing program, you need to verify that the coursework that you have completed will satisfy our course prerequisite requirements. If your coursework is not verified for prerequisite equivalency, you will not be credited for completing the prerequisite requirements. How to verify the equivalency of your coursework is outlined below.
If you took the courses specified above at EVC or SJCC your courses satisfy the prerequisite requirement. No action is required. 
If you took your prerequisite coursework at any other California community college check the Course Equivalency Chart for your college and the courses you took. If your community college is listed on the chart and the courses that you took are identified as equivalents of the Nursing prerequisites then your coursework satisfies the prerequisite requirements.
If you completed prerequisite coursework at a university or at a community college not found on the Course Equivalency Chart then you will need to:
(1) Gather up the course descriptions and syllabi from the courses that need to be verified for equivalency.
(2) Fill out a Course Substitution petition for each course that needs to have it's equivalency to EVC prerequisites verified.
(3) Email the filled-out course substitution form(s) along with the course description and syllabus for each course to our Nursing Counselor William Sapigao at William.Sapigao@evc.edu. William will forward those material to EVC faculty and they will review your coursework for equivalency.
(4) If your course substitution is approved, upload it to your application when you apply in October along with your transcripts.
Please note that all of the above applies not only to course prerequisites but also to courses that you can gain multicriteria points for on your application. For psychology, developmental psychology, oral communications and statistics, check the Course Equivalency chart. For pharmacology and pathophysiology consult the Pharmacology and Pathophysiology Equivalency chart.
Please make sure that you have your prerequisite course equivalencies verified well before the October 31st application deadline, as the process is likely to take a few weeks at minimum.
Multicriteria Scoring Rubric
The Multicriteria Scoring Rubric is used to evaluate applicants to the EVC Nursing programs. Applicants are selected on the basis of their Multicriteria scores. Before applying, consult the Multicritera Scoring Rubric to determine what areas you are eligible for earning points for on your application and upload the required documentation on your application in October. 
​​Admission Criteria
Points
Point Distribution
Academic degrees from regionally accredited program
Maximum 5 points
BS/BA or higher = 5 points
OR
AS/AA/ADT degree = 2 points
Recent work or volunteer experience with direct human patient care within the past 5 years. Must have verification from human resources or employer verifying the number of hours worked and job title. All information must be submitted by the student along with the application.
Maximum 15 points

Licensed LVN, Paramedic, EMT, or documented medical military experience, (all with work experience ≥ 1000 hours) = 15 pts.

OR

CNA/HHA Certification , Phlebotomist, Surgical Technician, Hospital unit based clerical or telemetry staff, Health care related Therapists, such as Physical, Occupational, or Respiratory therapists, Medical Assistant (all with work experience > 1000 hours) = 8 points
Physical Therapy Aide, Medical Scribe, Dental Hygienist, Radiology, CV  > 1000 hours)​ = ​5 points
Volunteer Activities  (≥ 200 hours) = 1 point 

GPA relevant course work Biology Pre-requisites: Anatomy, Physiology and Microbiology are lecture and lab courses only. No discussion group classes are included
Maximum
30 points
Biology Prerequisites Anatomy, Microbiology, and Physiology GPA must be ≥ or 2.5
4.0                  30 points
3.6 - 3.9          25 points
3.3 - 3.5          20 points
3.0 - 3.2          15 points
2.5 - 2.9           5 points
Completion of relevant course for Evergreen Valley College Nursing Program​
Maximum 22 points

Pharmacology 5 points, Pathophysiology 5 points, all other courses 3 points per course for each course completed: Psychology, ​Developmental Psychology, ​ Oral Communications, and a course that fulfils AA Math requirement.

Students with Bachelor's degree will receive 3 points for Math requirement. They are exempt from GE math requirement.
Students may earn points for courses completed at other accredited schools approved to be equivalent through Petition for Course Substitution/Equivalency. Petitions must be approved prior to applying and must be on file with Admission/Records
Courses in progress will not be used to determine points.

Life Experience include:

Disabilities
Low Family Income
First generation of family to attend college
Need to work
Disadvantaged social or educational environment
Difficult personal or family situations or circumstances
Refugee status

Maximum 3 points
Students who complete the narrative section of the application and meet any of the life experience criteria indicated, will receive 3 points.
Proficiency or advanced level coursework in languages other than English.
Credit for languages other than English shall be received for languages that are identified by the Chancellor's office. These may include but are not limited to the following:
ASL, Arabic, Chinese including its various dialects, Farsi, Russian, Spanish, Tagalog, and various languages of the Indian subcontinents and Southeast Asia 
Maximum 2 points

Proof must be provided by the student (of spoken language proficiency) by one of the following:

Official transcript from a US regionally accredited college or university verifying 4 semesters of the same foreign language with a grade of C or better for each semester within the last 5 years.
Letter from a professor (with whom the student has studied), clergy or supervisor, if it is the applicant's native language (must speak, read and write in the language).

​Veteran Status
​Maximum 3 Points
​Copy of Defense Forms DD-214 Honorable Discharge = 3 points
Assessment and Readiness testing (TEAS).
Only the first passing score will be counted for points.
First time ATI testing will be available through Evergreen Valley College (Limited Number). For more information click here: TEAS Testing
Maximum 25 points

TEAS Version 7

85 – 100%               25 points
78 – 84.9%              20 points
71 – 77.9 %             15 points
64 – 70.9 %             10 points
62 – 63.9 %              5 points
  
Maximum Points that can be acquired:      105
ONLY COMPLETED APPLICATIONS WILL BE CONSIDERED.  A COMPLETED APPLICATION INCLUDES THE SUPPORTING DOCUMENTS INDICATED BELOW.
Nursing Program Coursework
The below courses comprise the EVC Nursing program curriculum. These are not prerequisite courses; they are the courses that admitted applicants complete while attending the EVC Nursing program. 
 
Course
Title
Units
Course Supportive of the Major (required for graduation and licensure)
 
PSYCH 001
General Psychology (recommended prior to enrollment in the nursing program)
3
Core Requirements: All completed with a grade 'C' or better
 
NURS 010
Nursing Fundamentals in the Medical- Surgical Setting
9
NURS 011A
Nursing of the Childbearing Family
3.5
NURS 011B
Nursing of the Pediatric Family Unit
3.5
NURS 012
Professional and Practice Principles in Nursing
2
NURS 013
Nursing Care of Adults I
9
NURS 014A
Mental Health Nursing
3
NURS 014B
Nursing Care of Adults II With Transition to Practice
6
For information on the additional non-Nursing coursework required for the ADN, please consult the "Graduation Requirements" section of the Nursing Catalog.
Approximate Costs Related to the Program
| Expense | Approximate Cost (Both Years) |
| --- | --- |
| Uniforms, laboratory coat, shoes, books, and supplies | $1,200.00 |
| Tuition for 4 semesters | $1,780.00 |
| ATI testing and online resources | $935.00 |
| CPR training, mask fitting and background and drug screening | $533.00 |
| Physical exam and immunizations | Variable costs |
| Student supply kits | $136.00 |
| Total | $4,584.00 |
Transcript Submission
The EVC Nursing program accepts transcripts during application window only (See the top of this page for the application window dates). Please do not submit transcripts at any other time. Any transcripts submitted outside of this application window will not be processed and can lead to an incomplete application.
 

Students are required to submit ALL transcripts from all colleges where Anatomy, Physiology, Microbiology and English 1A were taken.  Even if you took these classes more than once, ALL of the transcripts must be submitted.

All transcripts must be official transcripts the only exception to this is if the classes are from EVC and SJCC you may submit unofficial transcripts.
Options for sending official transcripts:
 

Drop off: at EVC Nursing Office Sequoia building (room, S-207) during business hours.

E-transcripts: Official e-transcripts must be sent to evcnursing@evc.edu - DO NOT SEND TO ADMISSIONS

Mail: must be postmarked no later than 10/31. Send to: Evergreen Nursing – Attention: Austin Hunter, 3095 Yerba Buena Road, San Jose, CA  95135 DO NOT SEND TO ADMISSIONS).

EVC Nursing is not accountable for any mailed transcripts or e-transcripts that failed to be successfully submitted to the nursing office on-time (ex. transcripts lost in mail or transcripts failed to be submitted by your institution on-time).
Location/Hours
(408) 270-6448
evcnursing@evc.edu
Office: Sequoia S-207
Hours:
Mon-Thurs: 8:30 am - 4:30 pm
Fri: 8:30-4:00
Closed Weekends & Holidays
Contact Us.
Dr. S. Lu Crary
Dean of Nursing & Allied Health
(408) 223-6779 
DNP, MSN, RN
S-206

Will Sapigao
Nursing Counselor
(408) 223-6711

Austin Hunter
Nursing Program Coordinator
(408) 270-6448
S-207

Denise Medina
Instructional Support Lab Tech IV
(408) 274-7900 ext. 6890
S-203