The Evergreen Valley College Computer Lab is the on-campus and online support hub for the EVC community, helping you navigate the digital learning environment. Our experienced staff can assist you with troubleshooting, tutoring, or access to technology. You have free access to computers, internet, MS Office, and scanning and all you need to use the lab is your student ID card to log in/out.
Image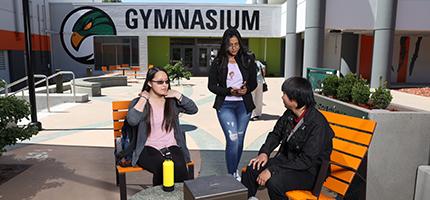 More Info.
Printing Cost
If you want to print, it costs 15 cents per page for black and white and 50 cents per page for color 
Computer help
You can get help from tutors and staff with basic computer questions
Saving Files
Files cannot be saved on lab computers and will be erased when restarting. Please bring your own device or space - flash drive or plan to save your work to Google Drive or send it to yourself with email.
Safety Protocols Inside the Lab
Masks are required inside the lab
Please use wipes provided in the lab to wipe your mouse and keyboard before and after each use
Location/Phone/Hours
Library/Educational Technology Center, ground floor, LE200
Phone: (408)274-7900 x 6333
Spring Hours: 
 Monday - Thursday:             8 am - 7 pm  
 Friday:                              8:30 am - 1 pm 
Online support through Zoom.
We provide general help navigating the many programs you might encounter in your classes or during your time at EVC, including, but not limited to: MyWeb, Canvas, Office 365, Zoom, Microsoft Office (Word, Excel, PowerPoint, etc.) and internet browsers. You will be asked to provide your name and student ID number at the beginning of the Zoom meeting with a lab tech. 
Image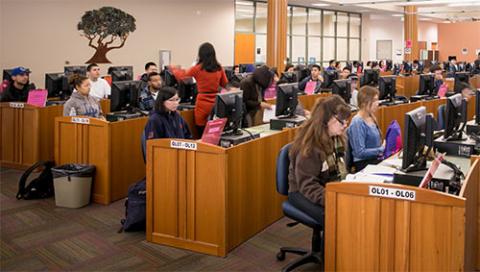 Online students can make an appointment for help on Zoom. Each student can have up to 30 minutes Zoom time each day. 
The Zoom hours are the following:
Monday, Wednesday:     1:00 pm -   4:00 pm
Tuesday, Thursday:       11:00 am -   3:00 pm
Friday:                                        9:30 am -  11:30 am
To make an appointment for help on Zoom, email di.liu@evc.edu. In your email, please include your name, student ID, date and time you need help on Zoom. 
 
Contact Us
Di Liu
Instructional Support Assistant, Lab Lead
Classroom Reservation
---
di.liu@evc.edu