​Accreditation​​ Status.
Evergreen Valley College is accredited by the ​Accrediting Commission for Community and Junior Colleges, Western Association of Schools and Colleges, 10 Commercial Blvd., Suite 204, Novato, CA 94949, (415) 506-0234, an institutional accrediting body recognized by the Council for Higher Education Accreditation and the U.S. Department of Education. Additional information about accreditation, including the filing of complaints against member institutions, can be found at: www.accjc.org.​
Image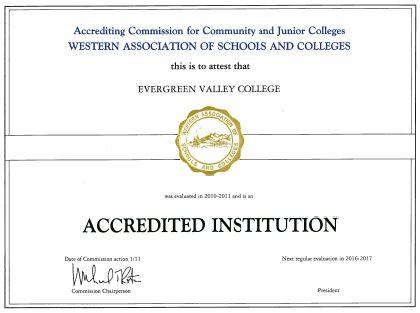 THIRD-PARTY COMMENTS TO ACCJC
A third-party comment may be submitted to the Commission at any time as it relates to the compliance of a member institution with Eligibility Requirements, Accreditation Standards, or Commission policies. Such comment must be submitted in writing, signed, and accompanied by the affiliation, return address and telephone number of the correspondent. Commission staff will review all third-party comments to assess its applicability to Eligibility Requirements, Accreditation Standards, or Commission policies. Institutions will be provided with an opportunity to review applicable third-party comments.
Individuals who wish to make comments on the institutions that are undergoing review in the current semester and that are being considered by the Commission at its next meeting, should use the Third Party Comment Form and be sure to include their name, address, phone number, and email address. The comments must be received five weeks before the scheduled Commission meeting.
For more information, access the Third Party Comment Form​.​
OTHER ACCREDITATIONS, CERTIFICATIONS, AND APPROVALS
The following Evergreen Valley College programs have additional accreditation through their respective agencies:
Certified Nursing Assistant Program
Registered Nursing (ADN) Program
Approved by the California State Board of Registered Nursing, P.O. Box 944210, Sacramento, CA 94244-2100.  To inquire about filing a complaint, call 916.322.3350.
Approved by the Accreditation Commission for Education in Nursing http://www.acenursing.org/, 3343 Peachtree Road NE, Suite 850, Atlanta, Georgia 30326.
Email: info@acenursing.org To file a complaint, call 404.975.5000

The Associate Degree Nursing (ADN) program at Evergreen Valley College meets the state education requirements for a Registered Nurse license in the state of California. Evergreen Valley College has not determined if the ADN program at Evergreen College meets the state education requirements in any other state, any U.S. Territory, or the District of Columbia.

For more information on other state Nurse Practice Acts visit the NCSBN Link to every Nursing Practice Act.
Honda
Certified American Honda Training Program Certified through NCTE.
The Quality Focus Essay (QFE)
The Quality Focus Essay (QFE) is born out of the College's self-evaluation and is an opportunity for colleges to further study and take action in areas that need widespread institutional change, development, or improvement and have the potential to impact student outcomes. To complete the work on the quality focus essay, the College reviewed the requirements and expectations contained in the Manual for Self-Evaluation and the Guide to Evaluating and Improving institutions.​​  Continue Reading...​
To message and facilitate dialogue around the College's QFE, EVC utilized a creative messaging avenue by developing the QFE animation below