Overview
This program provides students with the knowledge, both in practice and theory, to complete the lower division requirements and prepare them to transfer to a four-year institution and to earn a Bachelor's Degree. The degree is intended for students who plan to complete a bachelor's degree in a similar major at a CSU campus. Students completing this degree are guaranteed admission to the CSU system, but not to a particular campus or major. Included in the curriculum are core courses in accounting, economics, business law, and mathematics. The student will learn to analyze data and problems related to businesses and use the basic analytic business tools to find solutions.
Image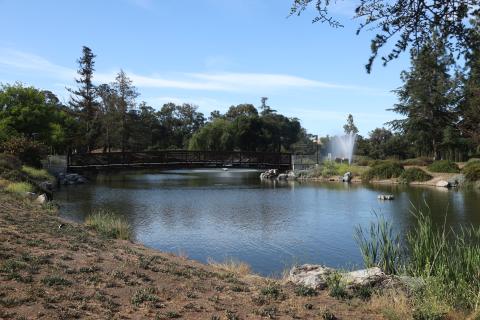 To be awarded the Associate Degree for Transfer, students must have the following:
Completion of 60 CSU transferable semester units.
A minimum of at least 2.0 GPA in CSU transferable courses (note that a higher GPA may be required in some institutions).
Completion of at least 18 units in the major with a grade of "C" or better. A "P" (Pass) grade is also an acceptable grade for courses in the major if the course is taken on a Pass/No Pass basis.
Certified completion of the CSU General Education-Breadth (CSU GE-Breadth) requirements, or completion of the Intersegmental General Education Transfer Curriculum (IGETC) for CSU requirements.
Please Note: No more than 60 semester units are required for this degree and no additional requirements will be imposed by Evergreen Valley College.
Program Learning Outcomes
Solve business problems through statistical analysis.
Utilize current business theories to manage staff in a successful manner.
Use various motivational theories to improve productivity.
Demonstrate knowledge of organizational structure and behavior, and ethical responsibilities of corporations.
Demonstrate knowledge of management, marketing, finance and accounting, operations and information systems.
Required Courses
Major Requirements
 
Course
Title
Units
Core Requirements
 
ACCTG 001A
Principles of Financial Accounting
4
ACCTG 001B
Managerial Accounting
4
BUS 060
Fundamentals of Business Statistics
3
BUS 071
Legal Environment of Business
3
BUS 082
Introduction to Business
3
ECON 010A
Principles of Macroeconomic Theory
3
ECON 010B
Introduction to Microeconomic Theory
3
One of the following Math courses:
3-5
Finite Mathematics
 
Calculus for Business and Social Science
 
Calculus I Late Transcendentals for STEM
 
Calculus I With Analytic Geometry
 
Total Requirements
 
Course
Title
Units
Major Requirements
26-28
CSU GE Breadth or IGETC for CSU 1
37-39
Total Units
60.0
| | |
| --- | --- |
| 1 | Some GE courses may be double-counted within the major and will reduce the number of units.  General electives may be needed to reach 60 units. Please consult with a counselor to determine which courses are applicable. |
What is a Program Map?
A program map is a suggested semester-by-semester plan to help you complete the courses required for a particular degree or certificate. It is based on the major sheet for the particular degree or certificate you are interested in. It includes courses required for the major, general education and any necessary electives. 
A program map is a representation of the major sheet. It includes the specific specialty courses in a major, general education courses and any necessary electives. 
What is a Major Sheet?
A major sheet includes a description of the program you are interested in, what you can expect to learn once you have completed the program (Program Learning Outcomes) and the specific specialty courses you will need to complete within a major.