Overview.
The Associate in Arts in Child and Adolescent Development for Transfer (AA-T) degree will prepare students with the strong foundation necessary for pursuing studies at the university level in various careers in teaching, child care settings, or other fields related to children and their families from infancy through adolescence.  
The AA-T in Child and Adolescent Development is intended for students who plan to complete a baccalaureate degree in Child and Adolescent Development or a related field of study at a California State University (CSU). Students who complete this degree are guaranteed admission to the CSU system, but not to a particular campus or major. Students transferring to a CSU campus that accepts the AA-T in Child and Adolescent Development will be required to complete no more than 60 semester units after transfer to earn a baccalaureate degree. 
Image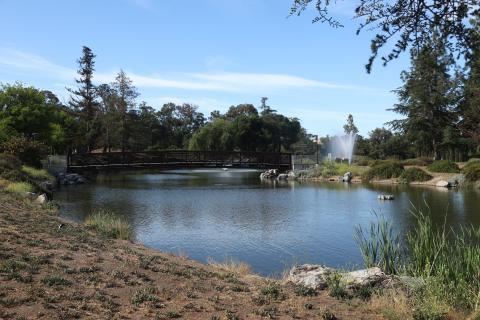 To be awarded the Associate Degree for Transfer, students must have the following:
Completion of 60 CSU transferable semester units.
A minimum of at least 2.0 GPA in CSU transferable courses (note that a higher GPA may be required in some institutions).
Completion of at least 18 units in the major with a grade of "C" or better. A "P" (Pass) grade is also an acceptable grade for courses in the major if the course is taken on a Pass/No Pass basis.
Certified completion of the CSU General Education-Breadth (CSU GE-Breadth) requirements, or completion of the Intersegmental General Education Transfer Curriculum (IGETC) for CSU requirements.
Please Note: No more than 60 semester units are required for this degree and no additional requirements will be imposed by Evergreen Valley College.
Program Learning Outcomes
Analyze the psychological, physical and cognitive influences on child development.
Evaluate different perspectives that affect the growth and socialization experiences of children and adolescents.
Identify developmental activities for children from infancy through adolescence.
Assess how socialization and culture impact the lives of children and families.
Apply observation and assessments to create appropriate environments.
Required Courses
Major Requirements
 
Course
Title
Units
Core Requirements
 
Child Development
3
General Psychology
3
Elementary Statistics
3

or BUS 060

Fundamentals of Business Statistics
List A: Select three courses form the following:
9-10
Introduction to Social and Cultural Anthropology
 

or

 
Introduction to Sociology
 

or

 
Marriage, Family, and Intimate Relationships
 
Human Biology
 

or BIOL 021

General Biology
Nutrition
 
Dynamic Health Concepts
 
Developmental Psychology
 
Total Requirements
Course List
Course
Title
Units
Major Requirements
18-19
CSU GE-Breadth or IGETC for CSU 1
37-39
Transferable Electives ( as needed to reach 60 units)
 
Total Units
60
| | |
| --- | --- |
| 1 |  Some GE courses may be double-counted within the major and will reduce the number of units.  General electives may be needed to reach 60 units. Please consult with a counselor to determine which courses are applicable. |
What is a Program Map?
A program map is a suggested semester-by-semester plan to help you complete the courses required for a particular degree or certificate. It is based on the major sheet for the particular degree or certificate you are interested in. It includes courses required for the major, general education and any necessary electives. 
A program map is a representation of the major sheet. It includes the specific specialty courses in a major, general education courses and any necessary electives. 
What is a Major Sheet?
A major sheet includes a description of the program you are interested in, what you can expect to learn once you have completed the program (Program Learning Outcomes) and the specific specialty courses you will need to complete within a major.