Overview
The Associate in Arts in Economics for Transfer (AA-T) degree will prepare students with the strong foundation necessary for pursuing studies at the university level in various careers in the fields of banking, inventory management, academia and government service.  Career options include economist in the private or public sector, financial analyst, controller, treasurer, marketing manager, production control specialist, inventory control manager and business analyst.   
The AA-T in Economics is intended for students who plan to complete a baccalaureate degree in Economics or a related field of study at a California State University (CSU). Students who complete this degree are guaranteed admission to the CSU system, but not to a particular campus or major. Students transferring to a CSU campus that accepts the AA-T in Economics will be required to complete no more than 60 semester units after transfer to earn a baccalaureate degree.
Image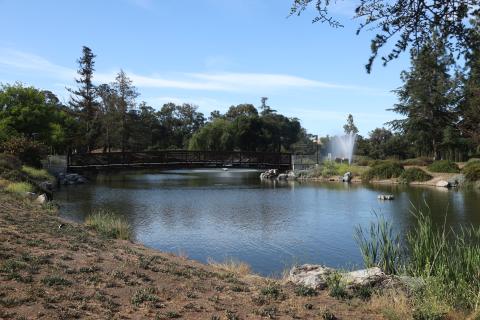 To be awarded the Associate Degree for Transfer, students must have the following:
Completion of 60 CSU transferable semester units.
A minimum of at least 2.0 GPA in CSU transferable courses (note that a higher GPA may be required in some institutions).
Completion of at least 18 units in the major with a grade of "C" or better. A "P" (Pass) grade is also an acceptable grade for courses in the major if the course is taken on a Pass/No Pass basis.
Certified completion of the CSU General Education-Breadth (CSU GE-Breadth) requirements, or completion of the Intersegmental General Education Transfer Curriculum (IGETC) for CSU requirements.
Please Note: No more than 60 semester units are required for this degree and no additional requirements will be imposed by Evergreen Valley College.
Program Learning Outcomes
Describe and explain how markets function and what happens in the presence of market failures.
Analyze production and costs of a firm.
Apply macroeconomic models to describe the economy.
Analyze the economic impacts of monetary and fiscal policy.
Explain the function of the central bank and the banking system.
Demonstrate oral and written competence in the major field.
Required Courses
Major Requirements
 

Course

Title

Units

Required Core

 

Principles of Macroeconomic Theory

3

Introduction to Microeconomic Theory

3

Fundamentals of Business Statistics

3

or MATH 063

Elementary Statistics

Calculus for Business and Social Science

3-5

or MATH 071

Calculus I With Analytic Geometry

List A: Select one of the following:

3-5

Principles of Financial Accounting

 

Managerial Accounting

 

Computer and Information Technology

 

Finite Mathematics

 

or MATH 072

Calculus II With Analytic Geometry

List B: Select one of the following:

3-5

Any course from list A not already taken

 

Multivariable Calculus

 

Linear Algebra

 
Total Requirements 
 

Course

Title

Units

Major Requirements

18-24

CSU GE-Breadth or IGETC for CSU 1

37-39

Total Units

60
| | |
| --- | --- |
| 1 |  Some GE courses may be double-counted within the major and will reduce the number of units.  General electives may be needed to reach 60 units. Please consult with a counselor to determine which courses are applicable.  |
What is a Program Map?
A program map is a suggested semester-by-semester plan to help you complete the courses required for a particular degree or certificate. It is based on the major sheet for the particular degree or certificate you are interested in. It includes courses required for the major, general education and any necessary electives. 
A program map is a representation of the major sheet. It includes the specific specialty courses in a major, general education courses and any necessary electives. 
What is a Major Sheet?
A major sheet includes a description of the program you are interested in, what you can expect to learn once you have completed the program (Program Learning Outcomes) and the specific specialty courses you will need to complete within a major.