Overview.
The Associate in Science in Nutrition and Dietetics for Transfer (AS-T) degree offers students basic knowledge in human anatomy or physiology, psychology, chemistry, and nutrition. Students with a degree in Nutrition and Dietetics find employment within a wide range of organizations, such as medical facilities, research labs, government agencies, universities, pharmaceutical companies, and the food industry.  This degree is also an excellent preparation for students planning to continue their education in medicine, public health and/or allied health sciences. 
The AS-T in Nutrition and Dietetics is intended for students who plan to complete a baccalaureate degree in Nutrition and Dietetics or a related field of study at a California State University (CSU). Students who complete this degree are guaranteed admission to the CSU system, but not to a particular campus or major. Students transferring to a CSU campus that accepts the AS-T in Nutrition and Dietetics will be required to complete no more than 60 semester units after transfer to earn a baccalaureate degree. 
Image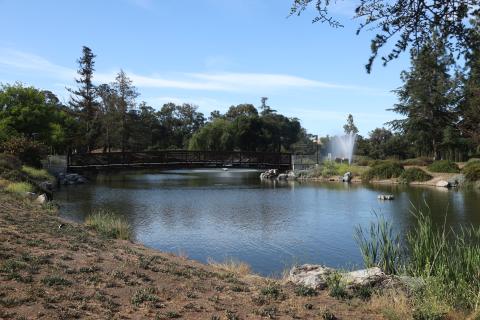 To be awarded the Associate Degree for Transfer, students must have the following:
Completion of 60 CSU transferable semester units.
A minimum of at least 2.0 GPA in CSU transferable courses (note that a higher GPA may be required in some institutions).
Completion of at least 18 units in the major with a grade of "C" or better. A "P" (Pass) grade is also an acceptable grade for courses in the major if the course is taken on a Pass/No Pass basis.
Certified completion of the CSU General Education-Breadth (CSU GE-Breadth) requirements.
Please Note: No more than 60 semester units are required for this degree and no additional requirements will be imposed by Evergreen Valley College.
Program Learning Outcomes
Identify the role of nutrients and healthy food preparations for optimal health and well-being.
Identify nutrition related chronic diseases by applying knowledge of nutrient functions, food sources and physiologic systems.
Explain how genetics and lifestyle factors affect nutritional and health status.
Assess a diet for nutrient adequacy using a current computerized USDA database.
Required Courses
Major Requirements
Total Requirements
 
Course
Title
Units
Major Requirements
27-31
CSU-GE Breadth 1
39
Transferable electives (as needed to reach 60 units)
 
Total Units
60
| | |
| --- | --- |
| 1 |  Some GE courses may be double-counted within the major and will reduce the number of units.  General electives may be needed to reach 60 units. Please consult with a counselor to determine which courses are applicable. |