Overview.
The Evergreen Valley College Nursing Program provides an inclusive learning environment that will enable the diverse learner to begin the process of life-long learning as a registered nurse to meet the health care needs of the community. By earning an Associate of Science Degree in Nursing (ADN), program graduates are eligible to apply to take the NCLEX-RN and are prepared for entry-level practice into the profession of nursing.
Please note: There is a separate application process for this program. Nursing Program Information Workshops, conducted throughout the year, provide additional information about the Nursing Program and selection process. For more information regarding the nursing program, contact the Nursing Program Office at (408) 270-6448 (Sequoia S207) or access the Nursing & Allied Health website.
Image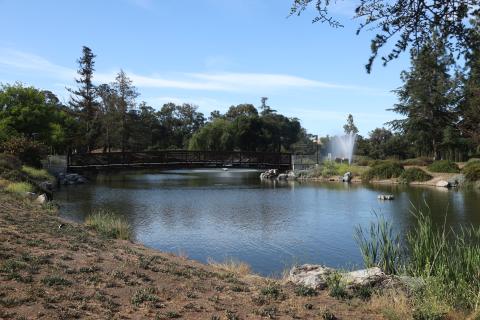 Program Learning Outcomes
Safe and Effective Care Environment-Provide safe and effective care consistent with professional standards and best practices.
Health Promotion and maintenance- Promote optimal health outcomes for individuals, families, communities, and populations in a variety of practice settings
Physiological integrity- Optimize nursing care utilizing clinical judgement based upon knowledge of biological sciences, pathophysiology, nutrition, pharmacology and growth and development to achieve maximum physiological integrity, and reduce the risk potential for the clients.
Psychosocial integrity- Utilize therapeutic communication and cultural sensitivity to implement caring behaviors that support spiritual, mental, and social well-being of the client throughout the lifespan
Professional Role of the Nurse- Function as a professional and competent nurse generalist while integrating ethical and legal principles.
Required Courses
Pre-Nursing Course Prerequisites:
Must be completed with a grade of "C" or better prior to applying to the nursing program
 
Course
Title
Units
Human Anatomy 1
5
Human Physiology 1
5
General Microbiology 1
5
English Composition
3
Course supportive of the Major (required for graduation and licensure)
 
PSYCH 001
General Psychology
3
| | |
| --- | --- |
| 1 | 4.0 semester units each for anatomy, physiology, and microbiology may be acceptable for equivalent courses if taken at a regionally accredited institution. NOTE: Nursing will not accept international coursework for the prerequisite classes.  |
Major Requirements: 
All completed with a grade of "C" or better
 

| Course | Title | Units |
| --- | --- | --- |
| | Nursing Fundamentals in the Medical- Surgical Setting | 9 |
| | Nursing of the Childbearing Family | 3.5 |
| | Nursing of the Pediatric Family Unit | 3.5 |
| | Professional and Practice Principles in Nursing | 2 |
| | Nursing Care of Adults I | 9 |
| | Mental Health Nursing | 3 |
| | Nursing Care of Adults II With Transition to Practice | 6 |
 
Course
Title
Units
Nursing Major Courses
36
Pre-requisite Courses
18
Course Supportive of the Major
3
General Education
15
Total Units
72
What is a Program Map?
A program map is a suggested semester-by-semester plan to help you complete the courses required for a particular degree or certificate. It is based on the major sheet for the particular degree or certificate you are interested in. It includes courses required for the major, general education and any necessary electives. 
A program map is a representation of the major sheet. It includes the specific specialty courses in a major, general education courses and any necessary electives. 
What is a Major Sheet?
A major sheet includes a description of the program you are interested in, what you can expect to learn once you have completed the program (Program Learning Outcomes) and the specific specialty courses you will need to complete within a major.