Overview.
TRiO Talent Search is one of more than 700 TRiO programs nationwide that are funded by the U.S. Department of Education to promote academic achievement among disadvantaged populations.  EVC's TRiO TS program is a free, federally-funded program that serves six target High Schools in San Jose, helping low-income and potential first-generation students successfully graduate from secondary school and enroll in post-secondary education.
Image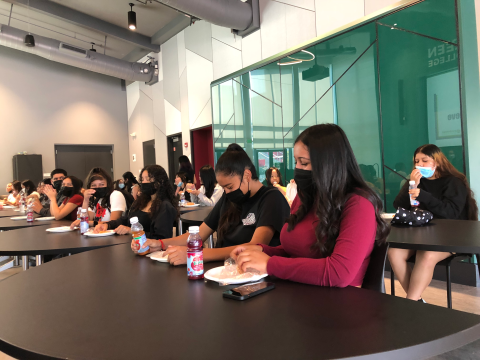 Program Services
Tutoring
Advice and assistance in secondary school course selection
Assistance in preparing for college entrance examinations (SAT prep)
Assistance in completing college admission application
Information on the full range of Federal student financial aid programs and benefits, and assistance in completing financial aid applications, including (FAFSA)
Guidance on and assistance in -

Secondary School reentry;
Alternative education programs for secondary school dropouts that lead to the receipt of a regular secondary school diploma;
Entry into general educational development (GED) programs; or
Entry into postsecondary education

Exposure to the campuses of institutions of higher education, as well as to cultural events, academic programs, and other sites or activities not usually available to disadvantaged youth
Workshops and counseling for families of participants served
Target HS
William C. Overfelt HS
Latino College Preparatory Academy
Roberto Cruz Leadership Academy
Luis Valdez Leadership Academy
Abraham Lincoln HS
San Jose HS
Program Eligibility
Attend one of the Target HS or reside in the target area
Have completed the fifth grade or be at least 11 years old and not older than 27 years old
Be a U.S. citizen or permanent resident
First-generation and low-income
Agree to commit to actively participate in program activities
Complete a TRiO TS application
Contact.
Brandon Yanari
Interim Supervisor
Tina Tieu
Student Retention Assistant
Student Service Center, SC-110
M-F: 8am-5pm
(or by appointment)
408-270-6483