Overview.
Evergreen Valley College (EVC) is pleased to announce a partnership with Tesla to support their mission to accelerate the world's transition to sustainable energy.
Tesla START - Student Automotive Technician is an intensive training program designed to provide students across North America with the skills necessary for a successful career with Tesla—at the forefront of the electric vehicle revolution. During the program, students will develop technical expertise and earn potential certifications through a blended approach of in-class theory, hands-on labs and self-paced learning.
Image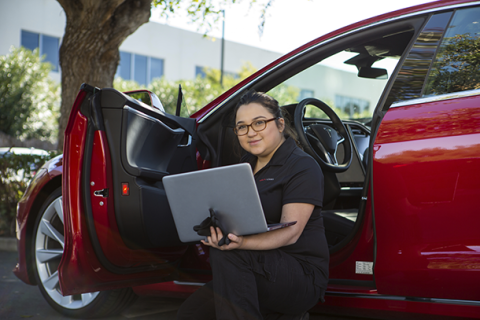 Tesla START's 12-week capstone is integrated into current automotive curriculum—providing students with a smooth transition from college to full-time employment within the automotive transportation industry.
Learn more about the Tesla START program at EVC, requirements and application process, or apply to Tesla START at Evergreen with the job ID# 44930
Contact.
Angel G. Fuentes
Dean, Business and Workforce Development​
(408) 270-6434​
For more information, Contact Instructor Mark Bernbeck
(408) 274-7900 x6624
Mark Bernbeck​