Overview.
Welcome to the Division of Math, Science, and Engineering where curiosity is invited and encouraged. What are you curious about? What are your aspirations? We will help transform you into powerful agents of hope and inspiration. 
Our division offers an array of courses to help fulfill General Education requirements, and degrees and certificates for STEM majors (Science, Technology, Engineering, and Mathematics). 
Mathematic courses include transfer-level Statistics to Calculus, Differential Equations, and Linear Algebra.  The Science Departments offer not only transfer courses such as Cell Biology, General Chemistry, and Calculus-Based Physics, but also an array of General Education courses for the non-science major including Astronomy, Oceanography, and Physical Science.   Take a look at the links below to learn more about the Division of Math, Science, and Engineering, and our Departments and Programs to see the full range of courses, degrees, and certificates we offer.
Image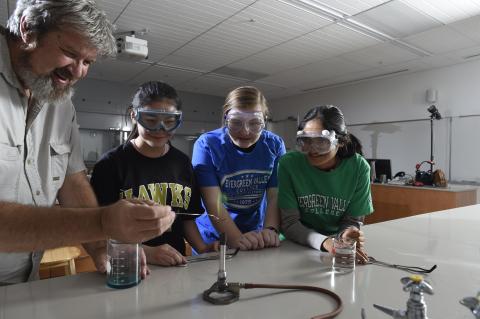 Tools & Resources
Resources To Support + Strengthen Your Studies
Image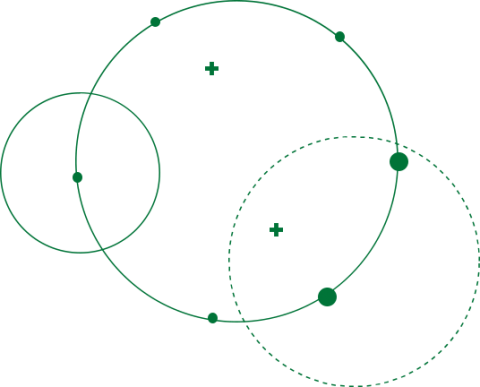 Supportive Services and Sites to nurture your curiosity
The Mathematics and Science Resource Center (MSRC) is available to our students to obtain additional help in any science and math subject. It is located in MS-112.  The MSRC provides tutoring services and resources provided by staff tutors and faculty. Laptop and calculators are available to check-out while using the services.  View the Fall 2021 Faculty Schedule for the MSRC.
The Biology Skills & Tutoring Lab is available to our students to obtain additional help specifically with their Biology courses.  It is located in S-219.  Three-dimensional anatomical models are available for students to study from.
The Montgomery Hill Observatory (MHO) offers free public stargazing nights (weather permitting) every 2nd Friday of the month.
Join the online Meetup group "Starry Evergreen" in order to receive information about upcoming events and special astronomical occasions. Registration is free. 
Come view the skies with our two observatories and several telescopes set out for the public.  Children are welcome — bring your kids so they can learn how to use the telescopes and identify objects in the sky! 
For further information, please email Rick Francisco.
EVC Museum of Natural Science 
Faculty & Staff
Full Time Faculty
| Name | Department | Office | Ext. |
| --- | --- | --- | --- |
| | ​Mathematics | ​MS-266 | ​​x6580 |
| | Physics | MS-228  | ​x6570 |
| | ​Chemistry | ​MS-268 | ​x6870 |
| | Chemistry | MS-272 | ​x6567 |
| | Biology | S-102 | ​x6261 |
| | ​Mathematics | ​MS-218 | ​x6178 |
| | ​Mathematics | ​SA-262 | ​x6040 |
| | ​Biology | ​S-108 | ​x6583 |
| | Computer Science | MS-214  | ​x6161 |
| | ​Chemistry | ​MS-250 | ​x6610 |
| | Biology | S-106 | ​x6259 |
| | Biology | AD-134 | x6615 |
| | Biology | S-103 | ​x6585 |
| | Computer Science | MS-216 | x6558 |
| | Engineering | A4-113 | x6855 |
| | Mathematics | MS-226 | ​x6154 |
| | ​Biology | S-105 | ​x6584 |
| | Mathematics | MS-220 | ​x6064 |
| | ​Mathematics | ​MS-222 | ​x6877 |
| | ​Physics | ​MS-270 | ​x6527 |
| | ​Biology | ​S-104 | ​x6260 |
| | Mathematics | MS-238 | ​x6664 |
| | Chemistry | MS-274 | ​x6578 |
| | Biology | S-107 | ​x6602 |
| | Mathematics | ​MS-264 | ​x6527 |
Adjunct Faculty
| Name | ​Department |
| --- | --- |
| | ​Biological Science |
| | Biological Science |
| | Biological Science |
| | ​Biological Science |
| | ​Biological Science |
| | Biological Science |
| | Biological Science |
| | ​Biological Science |
| | Biological Science |
| | Biological Science |
| | Biological Science |
| | Biological Science |
| | Biological Science |
| | Biological Science |
| | ​Chemistry |
| | Chemistry |
| | Chemistry |
| | Chemistry |
| | ​Chemistry |
| | Chemistry |
| | ​Chemistry |
| | Computer Science |
| | Computer Science |
| | Computer Science |
| | Computer Science |
| | Engineering |
| | Engineering |
| | Engineering |
| | Mathematics |
| | Mathematics |
| | Mathematics |
| | Mathematics |
| | Mathematics |
| | Mathematics |
| | Mathematics |
| | Mathematics |
| | Mathematics |
| | Mathematics |
| | Mathematics |
| | Mathematics |
| | Physics |
| | Physics |
| | Physics & Astronomy |
| | Physics & Astronomy |
| | Physics & Astronomy |
| | Physics |
| | ​Physics & Astronomy |
Staff
| Name | Title - Department | Office | Ext |
| --- | --- | --- | --- |
| | Instructional Lab Technician - Chemistry & Physics | MS-135 | x6594 |
| | Instructional Lab Technician - Physics & Astronomy | MS-127 | x6473 |
| | Sr. Division Administrative Assistant | MS-212 | x6490 |
| | Instructional Lab Technician - Biology | S-118 | x6231 |
| | Instructional Assistant, Lab Lead - Biology | S-219 | x6074 |
| | Instructional Support Assistant - MSRC | MS-112B | x6248 |
| | Instructional Assistant, Lab Lead - MSRC | MS-112B | x6247 |
| | Instructional Lab Technician - Engineering | AB-131 | x6019 |
| | Biology Laboratory Coordinator | S-128 | x6599 |
| | Instructional Lab Technician - Biology | S-120 | x6849 |
| | Instructional Lab Technician - Chemistry | MS-223 | x6649 |
| | Instructional Support Assistant - MSRC | MS-112A | x6157 |