The Center for Service-Learning and Public Service serves as the main campus resource for all service-learning, public service and civic engagement activities for students, faculty and staff. We are housed within Academic Affairs in the Social Science, Humanities, Arts & Education (SSHAPE) Division. The program consist of three distinct components, Service-Learning, Public Service and EVC Votes.
Our Mission.
Our Mission is to prepare students for lifelong civic engagement in pursuit of a more equitable and sustainable world.
Our Values
Our Values of equity, and social justice informs our community partnership with local Non-Governmental Organizations (NGOs) and the types of learning opportunities we offer students. 
Our Work
Our Work is rooted in our college's mission to empower and prepare students from diverse backgrounds to succeed academically and to be civically responsible global citizens.
Hours/Location.
Acacia  Building A4-224
2nd Floor
P: 408-223-6770
E: evcservicelearning@evc.edu
Office Hours:
Monday - Thursday:  9 am - 2 pm
Friday:  Closed
Image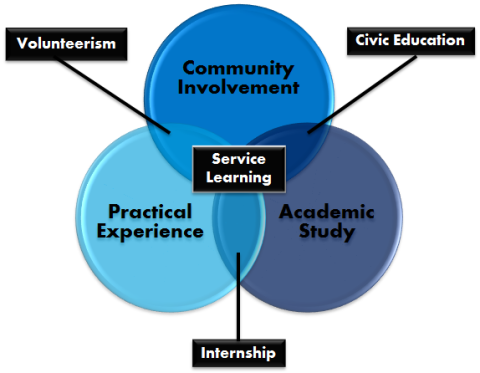 What is Service Learning?
Service-Learning connects through guided reflection and critical analysis, academic learning with service and social action. Students reflect on their service in order to increase their understanding of the curriculum, gain a broader appreciation of the discipline, while cultivating a sense of civic responsibility.
At EVC we work closely with faculty members to create Service-Learning assignments and projects that are carefully organized so as to enhance the learning objectives of each course, address real community needs, and promotes students' understanding of larger social issues at their service site and communities. Our partnerships with leading Non-Government Organizations (NGOs) provides students with opportunities to seek solutions to real-world problems.
Benefits for Students.
Notation on EVC Official Transcript:  Student who have completed 20 or more Service-Learning and/or Public Service hours will have their hours documented on EVC official transcript.
Certificate of Completion: End of Semester certificate from EVC President
President's Volunteer Service Award: Premier volunteer award issued by the President's Council on Service and Civic Participation on behalf of U.S. President.
Annual Commencement Ceremony Recognition:  Graduates who have completed 100 hours or more of service will receive silver graduation cords and notation of service in graduation program.
Enhance transfer, scholarship application, and resumes.
Obtain letters of recommendation.
Acquire professional experiences while exploring career options.
Connect with your community through your academic course.
Increase your knowledge of community issues and organizations.
 
Image