Overview
The Associate in Science in Biology for Transfer Degree will provide students interested in pursuing biology as a major field of study with a solid foundation in the life sciences. 
Students completing this degree will satisfy lower division requirements for transfer to a California State University campus. 
Successfully completing the Associate in Science in Biology for Transfer Degree is excellent academic preparation for students considering careers in the life sciences, including research, teaching, medicine and pharmacology, biotechnology, and other related disciplines.
Image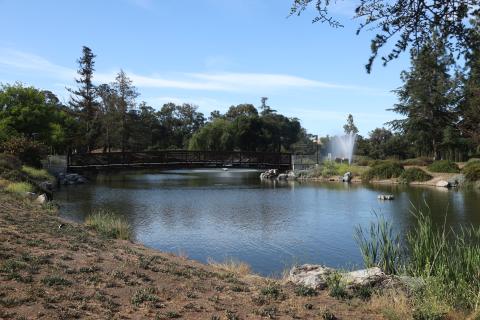 To be awarded the Associate Degree for Transfer, students must have the following:
Completion of 60 CSU transferable semester units.
A minimum of at least 2.0 GPA in CSU transferable courses (note that a higher GPA may be required in some institutions).
Completion of at least 18 units in the major with a grade of "C" or better. A "P" (Pass) grade is also an acceptable grade for courses in the major if the course is taken on a Pass/No Pass basis.
Certified completion of the CSU General Education-Breadth (CSU GE-Breadth) requirements, or completion of the Intersegmental General Education Transfer Curriculum (IGETC) for CSU requirements.
Please Note: No more than 60 semester units are required for this degree and no additional requirements will be imposed by Evergreen Valley College.
Program Learning Outcomes
Formulate and test hypotheses employing the scientific method, design or implement controlled experiments or observational studies, and collect, interpret and present biological data.
Properly employ scientific terms and concepts, and critically assess biological arguments.
Describe the Theory of Evolution by Natural Selection and explain why it is a central tenet of modern biology.
Compare and contrast living functions and organization of prokaryotes, protists, fungi, plants, and animals at the level of the cell, tissue, organ, organ system, and organism, and characterize the major organ systems of plants and animals and their functions.
Explain the significance of fundamental biological processes and phenomena including biological chemistry and enzymes, cell morphology, DNA replication, cell division, gene expression and regulation, photosynthesis, aerobic respiration, metabolic pathways and coupled reactions, and homeostasis, and as appropriate describe where and when the processes or phenomena occur.
Apply ecological principles to explain the natural histories of organisms and their interconnectedness with the environment.
Required Courses
Major Requirements 
 

| Course | Title | Units |
| --- | --- | --- |
| BIOL 004A | General Principles and Cell Biology | 5 |
| BIOL 004B | Organismal Biology and Biodiversity | 5 |
| CHEM 001A | General Chemistry | 5 |
| CHEM 001B | General Chemistry | 5 |
| MATH 071 | Calculus I With Analytic Geometry | 5 |
| PHYS 002A | Algebra/Trigonometry-Based Physics I | 4 |
| PHYS 002B | Algebra/Trigonometry-Based Physics II | 4 |
Total Requirements 
 
Course
Title
Units
Major Requirements 1
33
CSU GE-Breadth for STEM or IGETC (CSU) for STEM 2
31-33
Total Units
60
| | |
| --- | --- |
| 1 | Some GE courses may be double-counted within the major and will reduce the number of units.  General electives may be needed to reach 60 units. Please consult with a counselor to determine which courses are applicable. |
| 2 | CSU-GE and IGETC for STEM only requires students to complete 6 units in the Arts and Humanities and 6 units in the Social Science areas (CSU-GE areas C and D; IGETC areas 3 and 4) prior to transfer |
What is a Program Map?
A program map is a suggested semester-by-semester plan to help you complete the courses required for a particular degree or certificate. It is based on the major sheet for the particular degree or certificate you are interested in. It includes courses required for the major, general education and any necessary electives. 
A program map is a representation of the major sheet. It includes the specific specialty courses in a major, general education courses and any necessary electives. 
What is a Major Sheet?
A major sheet includes a description of the program you are interested in, what you can expect to learn once you have completed the program (Program Learning Outcomes) and the specific specialty courses you will need to complete within a major.