Overview.
The Associate in Arts in  English for Transfer degree is designed to prepare students to seamlessly transfer into the California State University (CSU) system and complete a baccalaureate degree in English or similar field of study.  A baccalaureate degree in English cultivates strong reading, writing, analytical, and creative skills. It provides a sound foundation for students seeking careers in advertising, communication, film writing, electronic and print journalism, library science, public relations, publishing and editing, law, or teaching.
Image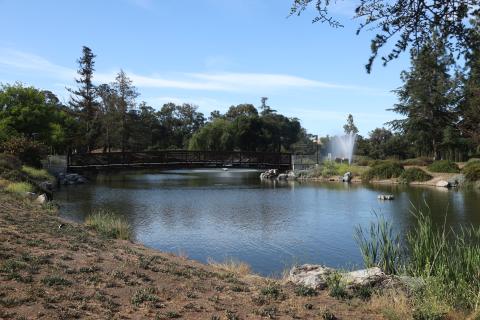 To be awarded the Associate Degree for Transfer, students must have the following:
Completion of 60 CSU transferable semester units.
A minimum of at least 2.0 GPA in CSU transferable courses (note that a higher GPA may be required in some institutions).
Completion of at least 18 units in the major with a grade of "C" or better. A "P" (Pass) grade is also an acceptable grade for courses in the major if the course is taken on a Pass/No Pass basis.
Certified completion of the CSU General Education-Breadth (CSU GE-Breadth) requirements, or completion of the Intersegmental General Education Transfer Curriculum (IGETC) for CSU requirements.
Please Note: No more than 60 semester units are required for this degree and no additional requirements will be imposed by Evergreen Valley College.
Program Learning Outcomes
Demonstrate knowledge of and familiarity with the methods of interpreting literature across genres.
Assess, evaluate, and analyze ideas expressed in text or in spoken language.
Express orally and in writing coherent arguments that evidence clear prose and synthesize and respond to diverse bodies of knowledge.
Required Courses
Major Requirements
 
Course
Title
Units
ENGL 001B
English Composition
3
ENGL 001C
Critical Thinking/Composition
3
List A: Select two courses from the following:
6
Survey of American Literature I
 
Survey of American Literature II
 
Survey of English Literature I
 
Survey of English Literature II
 
Introduction to World Literature
 
List B: Select one course from the following:
3

Any List A course not already taken

 
Introduction to Poetry
 
Introduction to World Mythology
 
Fundamentals of Creative Writing
 
Introduction to Shakespeare
 
List C: Select one course from the following:
3-5

Any course from list A or list B not already taken

 
Gender in Literature
 
Children's/Adolescent Literature
 
Asian/Asian-American Literature
 
Mexican-American Literature
 
African-American Literature
 
Elementary French
 
Elementary Spanish 2
 
Intermediate Spanish
 
Elementary Vietnamese
 
Total Requirements
 
Course
Title
Units
Major Requirements
18-20
CSU GE-Breadth or IGETC for CSU 1
37-39
Transferable Electives (as needed to reach 60 units)
 
Total Units
60
| | |
| --- | --- |
| 1 |  Some GE courses may be double-counted within the major and will reduce the number of units.  General electives may be needed to reach 60 units. Please consult with a counselor to determine which courses are applicable.  |