The Associate in Arts in Music for Transfer degree is designed to prepare students to seamlessly transfer into the California State University (CSU) system and complete a baccalaureate degree in Music. A baccalaureate degree in Music cultivates strong performing, writing, analytical, and creative skills. It provides a sound foundation for students seeking careers in performance, arranging, church music, electronic, composition, musicology, ethnomusicology, and music education. 
Image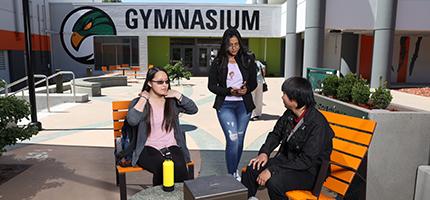 To be awarded the Associate Degree for Transfer, students must have the following:
Completion of 60 CSU transferable semester units.

A minimum of at least 2.0 GPA in CSU transferable courses (note that a higher GPA may be required in some institutions).

Completion of at least 18 units in the major with a grade of "C" or better. A "P" (Pass) grade is also an acceptable grade for courses in the major if the course is taken on a Pass/No Pass basis.

Certified completion of the Intersegmental General Education Transfer Curriculum (IGETC) for CSU requirements.
Please Note: No more than 60 semester units are required for this degree and no additional requirements will be imposed by Evergreen Valley College.
Program Learning Outcomes
Analyze and compose harmonic and melodic examples in various styles including 20th century.
Evaluate and critique musicality, technique, and style in musicians in rehearsal and performance.
Perform on a designated instrument/voice integrating musical and technical abilities, creative interpretation and performance practice.
Examine and analyze music in its socio-cultural context.
Required Courses
Major Requirements
 

Course

Title

Units

Required Core

 

Introductory Music

3

And/or

 

Music Theory I

 

Music Theory II

3

Music Theory III

3

Musicianship I

1

Musicianship II

1

Musicianship III

1

Ensemble

4

Applied Music: Strings, Winds, Brass, Percussion, Piano, Voice

2

List A:

3-4

Music Theory IV

 

Musicianship IV

 

Beginning Piano I
and Beginning Piano II

 

Class Piano
and Class Piano B

 

Music Appreciation: Western Civilization

 
Total Requirements
 

Course

Title

Units

Major Requirements

21-25

IGETC for CSU

37

Transferable Electives (as needed to reach 60 units)

 

Total Units

60
What is a Program Map?
A program map is a suggested semester-by-semester plan to help you complete the courses required for a particular degree or certificate. It is based on the major sheet for the particular degree or certificate you are interested in. It includes courses required for the major, general education and any necessary electives. 
A program map is a representation of the major sheet. It includes the specific specialty courses in a major, general education courses and any necessary electives. 
What is a Major Sheet?
A major sheet includes a description of the program you are interested in, what you can expect to learn once you have completed the program (Program Learning Outcomes) and the specific specialty courses you will need to complete within a major.