Overview.
The Social Justice Studies-Ethnic Studies Program is an academic curriculum composed of courses that critically explore, through interdisciplinary means, the past and present experiences of dis-empowered racial and ethnic minority groups in the United States. In order to recognize the complex aspects of ethnic identity. Our program focuses on five themes: 1) diaspora, 2) colonialism, 3) ethnic relations, 4) dominant-minority relations, and 5) community formation. We explore these and related topics from a variety of perspectives, always conscious of how they intersect with gender, sexuality, class, and nation. Ethnic Studies students have followed many career paths that include: Education, Law, Social Work, Immigrant Rights, Administration of Justice, Civil Rights, Politics, Government, Community and Housing Development, Community Organizing and more.
Image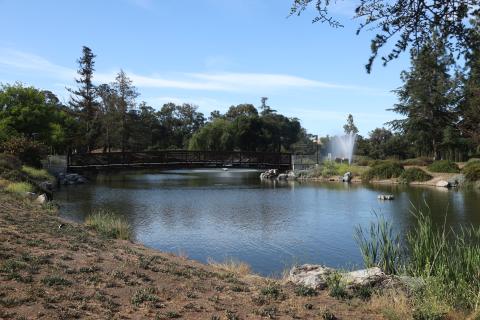 To be awarded the Associate Degree for Transfer, students must have the following:
Completion of 60 CSU transferable semester units.
A minimum of at least 2.0 GPA in CSU transferable courses (note that a higher GPA may be required in some institutions).
Completion of at least 18 units in the major with a grade of "C" or better. A "P" (Pass) grade is also an acceptable grade for courses in the major if the course is taken on a Pass/No Pass basis.
Certified completion of the CSU General Education-Breadth (CSU GE-Breadth) requirements, or completion of the Intersegmental General Education Transfer Curriculum (IGETC) for CSU requirements.
Please Note: No more than 60 semester units are required for this degree and no additional requirements will be imposed by Evergreen Valley College.
Program Learning Outcomes
Critically analyze the socio-historical origins, processes, and consequences of dominance and subordination in regards to race, ethnicity, and other underrepresented groups.
Compare and assess the socio-historical evolution of major ethnic groups in the United States and test the validity of various integration theories. 
Assess the racial history of the United States using relevant sociological terminology.
Required Courses
Major Requirements
 
Course
Title
Units
Core Requirements
 
Introduction to Ethnic Studies
3
African American Culture
3

Or

 
Chicana/o Culture
 

Or

 
Asian Pacific American (APA) Culture and Experience
 
Introduction to Women's and Gender Studies
3
List A - Select 3 courses (9 units) from at least 2 of the following areas
 
Courses must be related to social justice, gender/women, or ethnicity/race. Only one course from Area 4 may be used.
 
Area 1: History and Government
 
Women in American History
3
African American History
3
Mexican-American History
3
Area 2: Arts and Humanities
 
ETH 011
Ethnic Film: Reel Studies
3
Area 3: Social Sciences
 
Law Enforcement in Multicultural Communities
3
African American Culture
3
Chicana/o Culture
3
Sociology of the Chicana/o Experience
3
Vietnamese American Culture and Experience
3
Asian Pacific American (APA) Culture and Experience
3
Introduction to Sociology
3
Area 4: Quantitative Reasoning and Research Methods
 
Fundamentals of Business Statistics
3

Or

 
Elementary Statistics
 

Or

 
Introduction to Research Methods
 
Total Requirements
 
Course
Title
Units
Major Requirements
18
CSU GE-Breadth or IGETC for CSU
37-39
Transferable Electives (as needed to reach 60 units)
 
Total Units
60
| | |
| --- | --- |
| 1 | Some GE courses may be double-counted within the major and will reduce the number of units. General electives may be needed to reach 60 units. Please consult with a counselor to determine which courses are applicable. |