Overview.
The Associate in Arts in Studio Arts for Transfer degree is designed to prepare students to seamlessly transfer into the California State University (CSU) system and complete a baccalaureate degree in Studio Arts or similar field of study.  Course offerings expose students to a broad range of materials and techniques designed to build diverse technical skills, to nurture innovative and personally driven ideas, and promote professionalism in art and design solutions.  The Associate in Arts in Studio Arts for Transfer degree provides a sound foundation for students seeking careers in Fine Arts, Graphic Design, Industrial Design, Interior Design, Digital Media, Animation, Illustration, and Art Education, among others. 
Image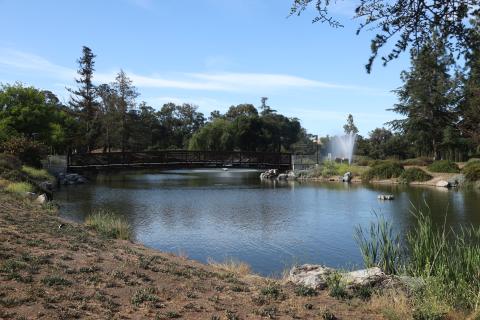 Program Learning Outcomes
Apply the elements and principles of art, and demonstrate skillful command in a variety of materials and techniques, both traditional and contemporary, to construct works of art and design that are impactful mediums of visual communication.
Apply design problem-solving processes, including various research techniques, brainstorming, thumbnail sketches, maquettes, prototypes, comps, safe and ethical use of materials and shared studio space, self-evaluations, and resulting in a final portfolio of art and design solutions.
Evaluate works of art and design through critical discussion and written assignments, using vocabulary specific to the visual arts.
Analyze, discuss, and interpret historically important works of art, architecture and design in terms of historical context and cultural values.
Required Courses
Major Requirements
 
Course
Title
Units
Core Requirements
 

Two Dimensional Design

3

Three Dimensional Design

3

Beginning Drawing

3

Graphic Design I

3

Art and Design Portfolio Preparation

3

Survey of Art History: Renaissance to the Present

3

Area of Specialization
6
Complete 6 units in one of the following areas of specialization
 

Drawing

 
Expressive Drawing
 
Representational Drawing
 
Life Drawing I
 
Life Drawing II
 

Painting

 
Painting I
 
Painting II
 
Watercolor Painting I
 

Digital Media

 
Photoshop I
 
Graphic Design II
 
Introduction to Digital Video
 

ART 041

 
 
Web Design I: Internet Publishing
 

Sculpture

 
Beginning Sculpture I
 
Sculpture II
 
Introduction to Metalsmithing
 

Metalsmithing

 
Introduction to Metalsmithing
 
Metalsmithing
 
Casting for Small Metals
 
Required Art History Elective
3
Survey of Art History: Prehistoric Through Gothic
 
History of Modern Art
 
History of Asian Art
 
Required Art Electives
2-3
Choose one course from list below, or one course (not already taken) from any area of specialization above
 
Life Drawing III
 
Painting III
 
Watercolor Painting II
 
Advanced Small Metals and Jewelry Techniques
 
Beginning Photography
 
Intermediate Photography
 
Fundamentals of AutoCAD
 
Total Requirements
 
Course
Title
Units
Major Requirements
29-30
General Education 1
33
Total Units
62-63
| | |
| --- | --- |
| 1 | Art History courses meet 6 units of general education requirements. |