Overview.
The Associate in Arts in Studio Arts for Transfer degree is designed to prepare students to seamlessly transfer into the California State University (CSU) system and complete a baccalaureate degree in Studio Arts or similar field of study.  Course offerings expose students to a broad range of materials and techniques designed to build diverse technical skills, to nurture innovative and personally driven ideas, and promote professionalism in art and design solutions.  The Associate in Arts in Studio Arts for Transfer degree provides a sound foundation for students seeking careers in Fine Arts, Graphic Design, Industrial Design, Interior Design, Digital Media, Animation, Illustration, and Art Education, among others. 
Image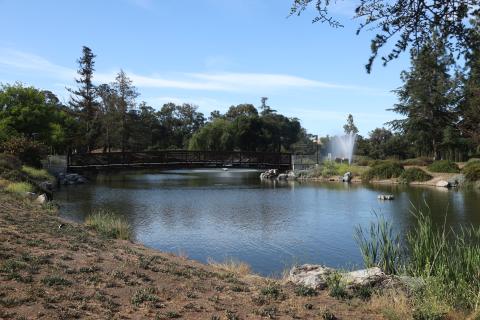 To be awarded the Associate Degree for Transfer, students must have the following:
Completion of 60 CSU transferable semester units.
A minimum of at least 2.0 GPA in CSU transferable courses (note that a higher GPA may be required in some institutions).
Completion of at least 18 units in the major with a grade of "C" or better. A "P" (Pass) grade is also an acceptable grade for courses in the major if the course is taken on a Pass/No Pass basis.
Certified completion of the CSU General Education-Breadth (CSU GE-Breadth) requirements, or completion of the Intersegmental General Education Transfer Curriculum (IGETC) for CSU requirements.
Please Note: No more than 60 semester units are required for this degree and no additional requirements will be imposed by Evergreen Valley College.
Program Learning Outcomes
Display competence in the use of tools, materials, techniques, and concepts by completing a portfolio of original art and design projects.
Demonstrate, through the analysis of aesthetic and cultural values, an understanding of the contribution of art and design to human experience.
Evaluate works of art and design through critical discussion and written assignments
Required Courses
Major Requirements
 

Course

Title

Units

Core Requirements

 

Two Dimensional Design

3

Three Dimensional Design

3

Beginning Drawing

3

Survey of Art History: Renaissance to the Present

3

List A: Select 3 units from the following:

3

Survey of Art History: Prehistoric Through Gothic

 

History of Asian Art

 

List B: Select 3 Curricular Areas (9 units)

9

Curricular Area: Drawing

 

Expressive Drawing

 

Life Drawing I

 

Curricular Area: Painting

 

Painting I

 

Curricular Area: Sculpture

 

Beginning Sculpture I

 

Curricular Area: Digital Art

 

Graphic Design I

 

Curricular Area: Photography

 

Beginning Photography

 

Curricular Area: Applied Design

 

Introduction to Metalsmithing

 

Curricular Area: Second Semester

 

Representational Drawing

 

Life Drawing II

 

Painting II

 
Total Requirements
 

Course

Title

Units

Major Requirements

24

CSU GE-Breadth or IGETC for CSU 1

37-39

Transferable Electives (as needed to reach 60 units)

 

Total Units

60
| | |
| --- | --- |
| 1 |  Some GE courses may be double-counted within the major and will reduce the number of units.  General electives may be needed to reach 60 units. Please consult with a counselor to determine which courses are applicable. |