Overview.
The Nurse Assistant/Home Health Aide course is approved by the California Department of Public Health and focuses on nursing assistant and home health aide skills/concepts performed under the direct supervision of a nurse. It is designed to provide a foundation of basic nursing care including vital signs, transfer and feeding techniques, bed making, hygiene, and environmental safety. Communication skills, cultural awareness sensitivity, as well as client rights and safety will be stressed. Application of these skills will occur in a skilled nursing facility. Students must achieve a 70% grade or better to pass the program and qualify to take the CA State Certification Exam to become a Certified Nursing Assistant.
The course consists of 60 hours of lecture and 100 hours of clinical for the nurse assistant component, followed by 20 hours of lecture and 20 hours of clinical for the home health aide component. The nurse assistant component is completed within the first 14 weeks of the semester. 
There is no application process for the course, registration is based upon open enrollment and is entirely dependent on your registration date or if you become waitlisted.  Visit the Admissions & Records page for information on applying for admission to the college and the Academic Calendar and Deadlines page for information on important course deadlines.
Registered students must attend a mandatory orientation that is held 2 weeks prior to the start of the course.  Waitlisted students may also attend; registered students who do not show up for orientation may potentially lose their seats in the class to waitlisted students unless the instructor has been notified in advance. 
Image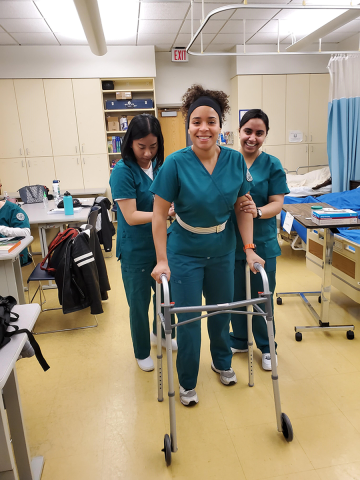 Course Requirements
Course requirements include high school graduation or GED, valid Social Security number or Taxpayer ID number, and completion of a background check (this is done in-house after your admission to the course).  Information regarding the background check is provided at orientation.
Once you are enrolled in this course, you also will be required to have health clearance, including physical exam and TB skin testing.
Please contact Dr. Kafle at Elaine.Kafle@evc.edu if you have any questions. You may also view this PowerPoint for more information: NURS109 Introduction