Overview.
If English is your second language, come to the Evergreen Valley College ESL Lab to start improving your English today!
ESL students rate our labs as very helpful for their life both inside and outside of school. We have six different levels of ESL labs, so we can offer you help whether you are just beginning or already advanced. 
 
Image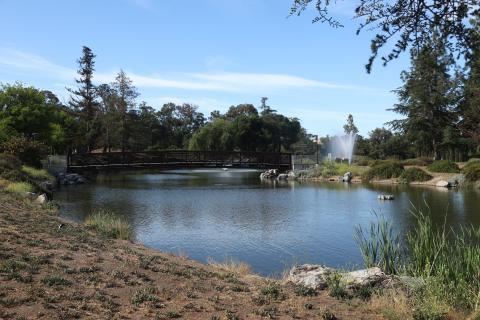 Skills Lab
Our Skills Lab has an award-winning, video-based computer program called English Interactive which you can use to practice all four language skills: Listening, Speaking, Reading, and Writing. As you follow the interesting story of the English Interactive characters, you will . . .
listen for comprehension
record your voice for pronunciation check
practice reading comprehension
learn grammar to improve your writing
 
Writing Seminar
In our highest-level labs, the ESL 302L and ESL 91L Writing Seminar, you will benefit from individual help to improve your English writing and reading skills through weekly essay and summary assignments. You will get to meet one-on-one with an ESL instructor or instructional assistant who will give you in-depth, personalized feedback on your writing. 
One-to-one student-teacher conferencing, the kind of help you will receive in the Writing Seminar, is the most efficient and effective way to learn. The intensive support you receive will help you to succeed in the composition classes ESL 302 and ESL 91 and help you prepare for other college-level writing assignments and classes.
 
What Lab Should You Take?
These ESL labs correspond to these ESL classes: ​
ESL Class and Lab Correspondences

​If you are in this class . . .

You should take this lab . . .

ESL 91

ESL 91L      (0.5 unit, required)

ESL 302

ESL 302L    (0.5 unit, required)

ESL 312

ESL 312L    (0.5 unit, required)

ESL 312, ESL 313, or ESL 314

ESL 310L    (0.5 -1.0 unit, optional)

ESL 322, ESL 323, or ESL 324

ESL 320L    (0.5 -1.0 unit, optional) 

ESL 332, ESL 333 or ESL 334

ESL 330L    (0.5 -1.0 unit, optional)

ESL 345, ESL 346, or ESL 347

ESL 341L    (0.5 -1.0 unit, optional)
Tools & Resources
Resources To Support + Strengthen Your Studies
Contact
Robert Gutierrez
Dean, Language Arts
---
Robert.Gutierrez@evc.edu
Acacia Building, Room AE-131
Spring Hours:
Mon-Thursday: 7am-6pm
Friday - Closed