Welcome to EVC DSP
The mission of the Disabilities Support Program (DSP) is to enable a diverse population of students with a broad spectrum of disabilities to participate in and access all aspects of the college community.
The Disabilities Support Program is committed to accessibility for all students, and ensuring that EVC DSP students are fully integrated, productive and assertive participants in their own educational process.
Image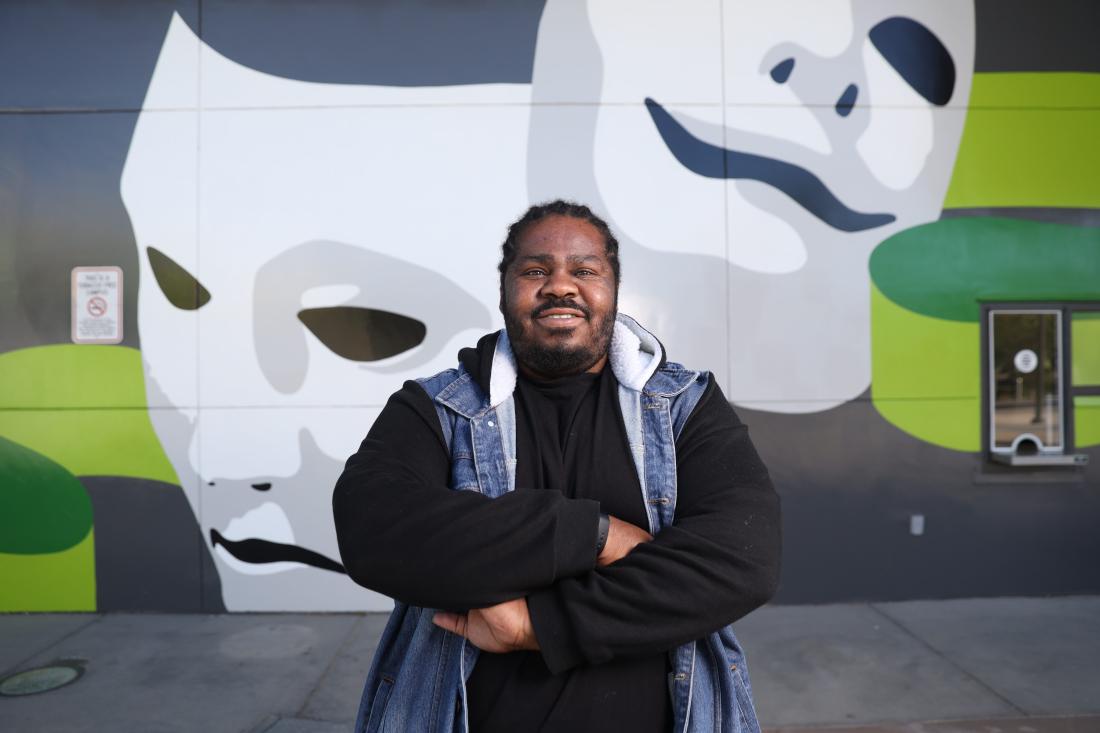 Image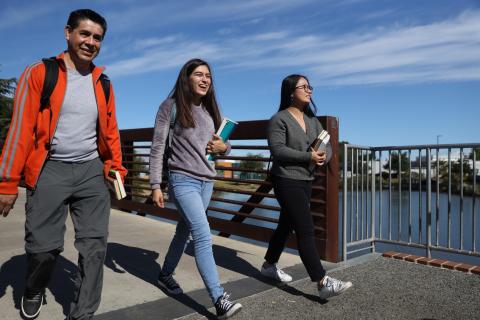 Is DSP for you?
Do you have a health condition or learning disability that might be affecting your school work and academic goals?  
Have you ever wondered if you might have a learning disability?  
Did you have a 504 plan or IEP in high school? 
If you answered yes to any of these questions, we are here to address your disability needs and help you succeed in college! 
 
Apply to DSP
We are excited to have you be a part of the DSP at EVC!  Please complete the following step to register with DSP. 
Apply to Evergreen Valley College   

Evergreen Valley College Disabilities Support Program (DSP) services are only available to student who have applied to EVC and registered for DSP services. 
If you have not applied to EVC yet please do so now Apply to EVC

Complete DSP Application       

Fill out our DSP application, make sure you fill out all applicable areas. 
Next, gather all disability documentation. Students are required to submit all necessary information and documentation prior to scheduling a DSP counseling appointment.

Note: You may not need to submit disability documentation IF your disability and accommodation requests can be verified by observation (e.g., wheelchair user, etc.)

Once completed please email back to evc.dsp@evc.edu

Schedule a DSP Counseling appointment 

After all the above steps are completed, your application and documents will be reviewed. Once a review is completed a DSP staff member will contact you within 1-2 business days to schedule an intake appointment with a DSP counselor or coordinator. If you do not hear from our office, please call 408.270.6447 to check on the status of your application.
Need Assistance?
If you have any questions about the steps above please contact our DSP office during business hours at (408) 270-6447 or evc.dsp@evc.edu
Image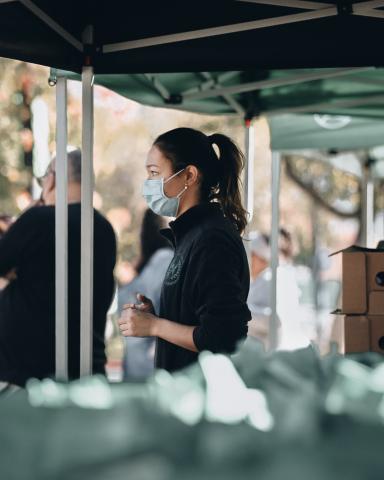 Image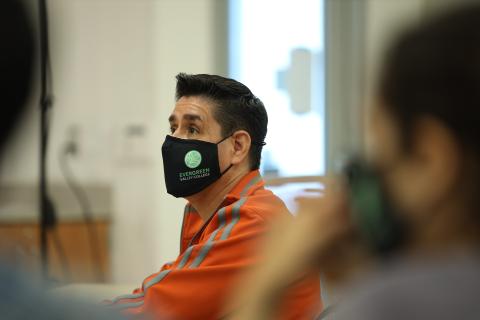 Important Information – Please Read:
If you attend San Jose City College and you also attend, or plan on attending, Evergreen Valley College, please be aware that even though the two colleges are part of the same district, they are still separate colleges. This means two things if you want services through the Disabilities Support Program (DSP) at Evergreen Valley College: 
You must first apply to Evergreen Valley College
You must apply to the DSP at Evergreen Valley College (see above)– even if you receive services through Student Accessibility Services (SAS) at San Jose City College
 
Support Services
Support services we provide include:
Specialized Counseling Services
Classroom Support
Test-Taking Assistance
Priority Registration
American Sign Language Interpreters and Captioners
Tutoring
Alternate Media Formats
Note Taking
Special DSP Classes:
Individualized Instruction (II-210), DSP

A zero unit, zero credit lab
Offers one-on-one tutoring
Use of our specialized equipment, hardware, and software
Use of our computers
PED 22A – Adapted Cross Training

Individualized overall fitness program for students with disabilities
PED 56A – Adapted Strength Training

Individualized muscle strength and conditioning program for students with disabilities
**Services offered through the Disabilities Support Program comply with the Americans with Disabilities Act of 1990, as amended; Sections 504 and 508 of the Federal Rehabilitation Act of 1973, as amended; and Title V of the California Code of Regulations.**
Faculty Resources
Evergreen Valley College is committed to creating a teaching and learning environment that facilitates equal access to educational and academic opportunities for all students.
Faculty are required by law* to provide approved reasonable accommodation per the student with disability's individualized Academic Accommodation Plan (AAP). 
Faculty are required to provide a reasonable accommodation when the student has an educational limitation that affects their ability to acquire information or to demonstrate knowledge of the course material in a standard way due to a disability. Compliance does not require lowering or substantially modifying academic or program standards, or fundamentally altering the integrity of a program or course curriculum.  Please consult with the Disabilities Support Program (DSP) office if you have questions or concerns about any approved accommodations per a student's academic accommodation plan.
EVC's qualified staff identify need for individualized accommodations and develop the Academic Accommodation Plan with accommodations to address the student's disability related barriers and allow equal access. Examples of approved academic accommodations may include, but are not limited to increased testing time, use of memory aides, sign language interpreters, notetakers etc.
Make Your Online Course Accessible
Your documents and presentations need to meet current accessibility standards.  Online lectures and videos must be captioned. The  EVC Faculty & Staff page is a great resource to help faculty make their course accessible.
Other online accessibility training resources:
Maintain Student Confidentiality
Under Family Educational Rights and Privacy Act (FERPA) and related laws affecting higher education and disability information, students have the right to confidentiality. Students have expressed fear of having their disability revealed to others. If their information is revealed to classmates or others without the student's permission, it is a violation of confidentiality laws and the trust that the student has in the instructor and the college. Exceptions:  Mandated Reporters (required by law) - a student can be reported if the student is determined to be a danger to self or others, or when there is reasonable suspicion of child abuse or the abuse of a dependent adult.
Include an EVC accessibility statement in your Course syllabi and Canvas Courses (See sample statement below)
Any student that anticipates or experiences any barriers to learning in this course or has an approved accommodation plan through the Disabilities Support Program (DSP), is advised to connect with the instructor to discuss their needs.   Students with disabilities anticipating or requiring reasonable accommodations due to a physical, learning or mental health disability, or other medical conditions should contact the DSP to develop an Academic Accommodation Plan.   For additional information or to schedule an appointment call the Disabilities Support Program via phone at (408) 270-6447 or Email: evc.dsp@evc.edu
We appreciate your efforts and wanting to be a supportive advocate on behalf of students, but we request that you please refer students to contact the Disabilities Support Program office directly to the extent possible so that they can learn to advocate for themselves and DSP staff can comprehensively evaluate and address their needs. 
Feel free to consult our office if you have questions about accommodations, need intervention assistance, testing accommodations, or want to learn more about how disability laws are applicable to instruction. 

Law References:
Faculty FAQs
What is Section 504 and the American's with Disabilities Act and why are we legally required to provide accommodations?
Please visit the U.S. Department of Education to read about protecting students with disabilities as mandated by Section 504 and the American's with Disabilities Act

I have a student in class who told me that they have a disability, but since that time has never requested any accommodations or provided me with a notification from DSP. Am I still responsible for accommodations?
No, you are only responsible for accommodations authorized by DSP. In this case, you may wish to speak with the student in private and refer them to DSP.

I have an online class. What does it mean when I have to make sure my materials are accessible to all students?
Certain accessibility requirements must be addressed when developing learning materials for electronic dissemination to students. Distance education courses, resources and materials must be designed and delivered in such a way that the level of communication and course-taking experience is the same for students with or without disabilities.
Service Animals
Does a student need to register with DSP in order to bring a Service Animal to campus?
No.  While it is recommended that students meet with DSP to receive information about the use of a Service dog on campus, this is not required under the current laws.
Are service dogs allowed on campus and in classrooms?
Yes. Service dogs are allowed on campus and in classrooms.
When it is not obvious what service the dog provides, what may we ask of the person?
College personnel may ask only two questions:
Is the service dog required because of a disability?

What work or task has the dog been trained to perform?
College personnel cannot ask about the person's disability, require medical documentation, require a special identification card or training documentation for the dog, or ask that the dog demonstrate its ability to perform the work or task.
May an individual be asked about the nature of their disability?
No. It is illegal to ask a person to disclose what their disability is or the reason they have a service dog.
What is considered work or tasks that the dog performs?
The work or tasks performed by a service dog must be active, not passive, and directly related to the disability.  A few examples of such work include:
Guiding people who are blind
Alerting people who are deaf to the presence of people or sounds
Reminding a person to take prescribed medication
Alerting and protecting a person who is having a seizure
Pulling a wheelchair
Alerting a person when blood glucose levels are low
Retrieving items such as medicine, keys or a phone.
Providing physical support and assistance with balance and stability to individuals with mobility disabilities.
Helping individuals with psychiatric and neurological disabilities by preventing or interrupting impulsive or destructive behaviors.
What if the "work or task" described is passive?
Passive activities such as the crime deterrent effects of an animal's presence, the provision of emotional support, well‐being, comfort, or companionship do not constitute work or tasks. Such animals may be deemed 'Therapy Dogs' or "Emotional Support Animals" and would require an Academic Accommodation authorized by DSP. Please refer the student to DSP for further guidance.
Are animals other than dogs recognized as service animals?
No. Under the law only dogs (or in some instances, miniature horses) are recognized as service animals.
What if another student or instructor is allergic or afraid of dogs?
Allergies and fear of dogs are not valid reasons for denying access or refusing service to people using service animals. It may be possible to accommodate by requesting that the fearful or allergic students use different locations within the classroom or take a different section of the course.
Can the service dog be removed from the classroom or campus?
A person with a disability cannot be asked to remove his service animal from the premises unless:
It is not controlled;
It is not housebroken; and/or
It is a threat to the health and safety of others
If any of the above three concerns exist, the service dog (not the student) may be removed from the classroom or campus location. The student should be referred to DSP for further guidance. Faculty may contact DSP directly if support is needed.
THE STUDENT IS RESPONSIBLE FOR:
Keeping the dog clean and pest free; in a harness or on a leash unless either the student is unable because of a disability to use a harness or leash, or the use of a harness or leash would interfere with the service animal's performance of work or tasks; and any harm or injury caused by the animal to other students, staff, visitors, and/or property.
Here is a quick easy guide on Service Dogs 101 from Birmingham-Southern College's Sociology of Therapy and Service Dogs class
YouTube video:
Pregnant Students
Title IX prohibits discrimination on the basis of sex — including pregnancy, parenting and all related conditions — in education and in programs and activities that receive federal funding. If you are a pregnant or parenting student, you have the right to stay in school so you can meet your education and career goals. Below are some frequently asked questions from students in postsecondary schools regarding their Title IX rights & how DSP can accommodate your need. 
Does the College need to provide me with special academic services or accommodations?
Title IX requires the college provide pregnant students with any special services we provide to students with any other type of temporary disability. Please contact the DSP located in the Student Services building for more information.
Do I have to register with DSP in order to get an accommodation?
DSP may provide academic accommodations for students with temporary or unexpected conditions that limit their ability to fully participate in academic programming without having accommodations. Some examples of temporary conditions that may require accommodations include:
Pregnant students experiencing pregnancy-related functional limitations (pregnant students not experiencing pregnancy-related functional limitations can seek pregnancy accommodations through the campus Title IX Office SC-205.
Resources
Assistive Technology
Attention Deficit Disorder
Blind/Low Vision
Brain Injury
Communication Disabilities
Deaf and Hard of Hearing
Independent Living
Intellectual Disabilities
Learning Disabilities
Legal Information
Mental Illness
Organizations for Institutions of Higher Education Serving Students with Disabilities
National Voter Registration Act
Veterans
DSP Office Hours:
Mon-Thurs: 8am-5pm
Friday:         8am-1pm
P: 408-270-6447
E: EVC.DSP@EVC.EDU
L: SC-120
Connect With Us
Student Services Building
Evergreen Valley College
3095 Yerba Buena Rd.
San Jose, CA 95135
TOOLS & RESOURCES
Resources to Support + Strengthen Your Studies