Are you looking for a way to broaden your horizons or prepare for college-level coursework? Evergreen Valley College offers noncredit classes, which are free for students looking to explore, build skills or prepare for a new educational goal. Taking noncredit classes is a great way to build community -- interacting with instructors and classmates -- as you get to know the campus.
Image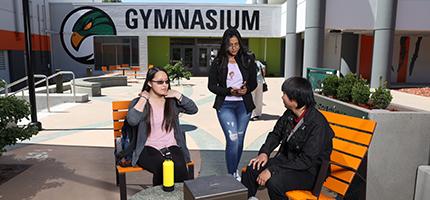 Getting Started
Register
If this is your first time trying to register for Evergreen Valley College courses, complete and submit the Noncredit Application. For credit courses, follow the credit student enrollment process.
Canvas & MyWeb
To register for classes and access your classes once you have enrolled, you will need both a MyWeb and Canvas account.
MyWeb is the student record account for student contact, class registration, add/drop courses, and update your personal information. 
Canvas is an online classroom portal where assignments, homework, and links for course material may be provided.
Register For MyWeb & Canvas
Within 1-3 days, check your email for a "Welcome Email" from Evergreen Valley College.  The "Welcome Email" will provide your Student ID Number (SID#) and your MyWeb User Name.
After receiving your Student ID number:
Create your MyWeb account. Follow the instructions for setting up a MyWeb account here. Login and complete your student profile.
Update your Ed Goal (Education Goal) (MyWeb> Students Menu> Academic Profile> Update My Contact/Ed Goals)
Register for classes in MyWeb here. 
Create your Canvas account here for your classroom portal which can include instruction, assignments, videos, quizzes, discussion groups. The class link will be posted at the start of the semester.
Check the "How To" Tutorial section to create a MyWeb account and registering a class via MyWeb.
Noncredit Course Schedule
Class Schedule 
(Link to) Noncredit classes 
(link to ) Evening noncredit classes 
(Link to) Daytime noncredit classes 
Books & Resources
Buying Books
Purchase books from the EVC bookstore as instructed by your teacher. 
Books may be available and may be loaned to you from the noncredit department, but must be returned upon the completion of the class term. 
Please do not write in the workbooks or textbooks. Books must be RETURNED in GOOD condition. 
Contact the Program Assistant to find out how to get your book.
Register for Noncredit Classes
Students should contact the Noncredit Academic Counselor for assessment and an Ed Plan (Education Plan) to register for credit classes. 
English as a Second Language (ESL) students must take an assessment (hyperlink?) 
You should contact the EVC First Stop Center to make an appointment for an assessment and to meet with a regular academic counselor for an Ed Plan.
FAQs.
What is the difference between noncredit and credit?
Noncredit courses are for students who want to gain general knowledge, learn a new skill, upgrade existing skills, enrich their understanding about a wide range of topics, develop personal interests and prepare for taking a credit course. Upon completion of a course, students may receive a grade of pass or no pass. Noncredit classes are NOT applicable toward a degree and will not appear on your transcript. 
Credit courses are designed for students who are interested in earning college credits towards a degree or certificate. Students who take credit courses generally receive a letter grade (A, B, C, D or F) recorded on a transcript. 
Who may attend noncredit classes?
California residents and undocumented residents living in California.
Students who hold F1 visas will need to connect with the Evergreen Valley College International Program to learn the process/eligibility for enrolling into a noncredit course or program. Contact: https://www.evc.edu/international/contact
Why take noncredit classes?
Noncredit classes assist students seeking to improve math or English proficiency, increase literacy, improve job skills and employability, or prepare for educational opportunities and credit coursework. 
Will I get a certificate by taking a noncredit class?
Generally, no. Certificates may be given for the completion of specific noncredit programs as designated.
Can I register for a class that has already started?
If a seat in the class is available, you may be able to join a class that is already in session. Contact the Noncredit Academic Counselor or Transition Specialist (link to the 'contact us' page) for more information on joining a class in session.
How many noncredit classes may I take?
There is no limit to the number of noncredit courses you may enroll in.
Do I need to take a placement or assessment test for noncredit?
Placement or assessment ​tests are not required for noncredit classes.
Do I need to take a placement or assessment test for credit?
To take a credit ESL or English class, you may contact the First Stop Center (insert link) for an assessment. To take a credit course, you will need to follow the credit student enrollment process. 
Do I need a high school diploma to take college classes?
No, a high school diploma is not required to take noncredit or credit classes; however, it is required for financial aid. 
Are there grades in noncredit classes?
Instructors will award Pass/No Pass to indicate competency in noncredit course material. 
How long are noncredit classes?
Noncredit courses vary in duration from 6 weeks to 16 weeks. 
What if I miss a class?
Notify your instructor if you miss a class. It is important for you to attend each and every class. Consult your instructor for their specific attendance policy.
Do noncredit classes appear on my Evergreen Valley College transcript?
Only noncredit courses, which are part of a certificate program or transferable to other colleges, will appear on the Evergreen Valley College transcript. 
Can I get Financial Aid for noncredit classes?
Federal Financial Aid is not available for noncredit courses; however noncredit courses are tuition-free!
Contact Us
Robbie Kunkel
Dean, LLRC, Dual Enrollment, Noncredit, College Wide Initiatives and Distance Education
---