Overview.
The EVC Classified Senate seeks to promote the choice of classified staff on non-collective bargaining issues and to provide recommendations and views on matters affecting the classified staff and the conduct, welfare, and growth of Evergreen Valley College.
Members.
President: Vicki Brewster
Vice President: 
Secretary: Brandon Yanari
Treasurer: Abby Abdel Halim
Senator At-Large: Alexis Marquez
Senator of Administrative Services: Arthur Azevedo
Senator of Student Affairs: Maya Gonzales
Senator of Academic Affairs: Teneka Cornish
Image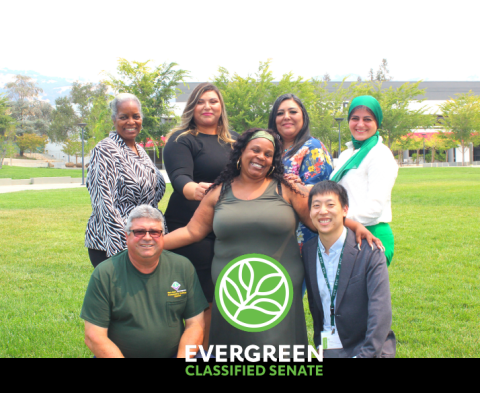 Purpose
Our purpose is to stand as a body representing the various needs, concerns, and viewpoints of the classified staff not related to union negotiation matters.  We also aim to provide:
A means through which classified will coordinate with administration and faculty to assure input from classified regarding college business and classified representation on college committees, thus assisting in the shared governance process.
An opportunity for enhancing the democratic process of informed decision-making at Evergreen Valley College.
A body through which the professionalism of classified is articulated and valued.
An opportunity to develop individual leadership contribution and development among the college's classified professionals.
Seats/Membership
E-board: (open to classified staff members only)
President
Vice President
Secretary
Treasurer
Area Senators: (open to classified staff members only)
Senator, Academic Affairs
Senator, Administrative Services
Senator, Student Affairs
Senator, At-Large (any area)
Chair
Classified Senate President (elected by the Senate members)
Term
Elected for a two-year term.
Meetings
Every 3rd Friday of the month; Fridays with conflicting holidays will be moved to the 2nd Friday of that month, 1PM-2PM
Attendance
Open to any interested members of the college community.​
President
Vicki Brewster
Documents
Resources