We know that the enrollment fee is only part of the expenses that you incur. This worksheet has been created so you can have full transparency of all potential costs and expenses and so you can plan accordingly. We also strongly encourage you to connect with Financial Aid to make sure you are exploring all avenues for financial aid and support to help cover your expenses and costs.
All campus fees are payable according to the deadlines published in the Schedule of Classes. No deferred or partial payments are allowed. Payment may be made by cash, check, traveler's check, money order or Visa/Master Charge card. Personal checks are not accepted for foreign or nonresident tuition and fees. A $10.00 charge is made for each returned check.
Image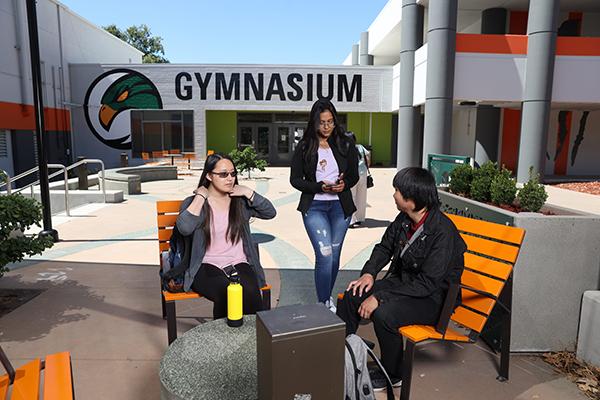 Fees
Enrollment Fees 
All information relative to enrollment fees is subject to change as mandated by the California Community College Board of Governors and California law.
All students are required to pay enrollment fees at the time of registration.
The State legislature determines enrollment fees. The current rate is $46 per semester unit.
Students may be eligible for a Waiver of Enrollment Fees if they are on Aid to Families with Dependent Children (AFDC), Supplemental Social Security (SSI), General Assistance, or if their total income and number of dependents meet specific criteria; or they have demonstrated need indicated on their financial aid application (See Financial Aid web page for Fee Waiver Application).
Health Services Fees 
The District provides a health program to assist students in health matters.
The Health Services fee is $21.00* per semester and is payable at the time of registration, unless the student is eligible for the BOGW Fee Waiver. The fee is nonrefundable unless the student withdraws from all classes prior to the end of the 10th day of the term, or the District cancels all of the student's classes. See Schedule for approved exemptions.
* Fees are subject to change.
On September 9, 2008, the District's Board of Trustees approved the elimination of the Board of Governor's fee waiver (BOGFW) for the student health fee. Recent years have seen a substantial increase in costs associated with providing student health services.​
The following exceptions to paying the Health Fee have not changed:
Concurrently enrolled high school students with an approved R-40 form on file
Indentured apprentices fulfilling related instruction requirements (with proper documentation required)
Students who are dependent exclusively upon prayer for healing, in accordance with teachings of a bona fide religious sect, denomination, or organization (proper documentation required)
Students enrolled only for classes meeting off campus
Students taking Friday evening, Saturday, or Sunday classes only
Students taking only short-term classes which meet on campus seven times or less
Student ID Card Replacement Fee
Student Identification Cards are issued free at the time of registration in the Admissions & Records Office. The ID cards are used to access the College Library, Health Center, and other services. The ASB is also placed on the ID card for access to special AS services and discounts. Replacement photo ID cards cost $7 (non-refundable). If the student has registered for classes, the Student ID may be picked up at Admissions & Records. 
VTA EcoPass Fee 
Each student enrolled at Evergreen Valley College is automatically entitled to a VTA EcoPass:
$6.50 - Students enrolled in 5 or less units
$11.00 - Students enrolled in 6 or more units
Student Center Fee 
A Student Center Fee is assessed at Evergreen Valley College only. EVC students are required to pay at the time of registration a Student Center Fee in the amount of $1 per unit up to a maximum of $5 per semester. The fee is non-refundable unless the student withdraws from all classes prior to the end of the 10th day of the term, or the District cancels all of the student's classes.
Student Representation Fee 
Material Fees 
Some classes require a material fee. Please check individual course offerings for the amount required.
Parking Permits and Fees 
Semester parking permits are good at both EVC and SJCC campuses and may be purchased online through MyWeb on any computer (from home, work, school) when paying by credit card. Please, direct questions or concerns after you have ordered/purchased your parking permit to Credentials Solutions at 1-800-646-1858.
All automobiles must have the permit placed on the left -hand bottom corner of the front windshield. Violation of parking rules can result in citations ranging from $37 to $300. Disabled Person Parking spaces and red zones are enforced at all times. Please read the posted signs and follow instructions printed on parking permits. 
Paid parking is enforced Monday through Saturday. A parking permit does not guarantee a parking space; it merely gives the student the convenience of not buying daily permits.
Students who have the BOGW Fee Waiver will be charged a maximum of $25.00 for regular semester parking permits. 
Spring/Fall Semester Parking Fees:
$45 - Automobiles permit
$35 - Carpool permit
$25 - BOGFW recipients
$15 - Motorcycle permit
$3 - Daily Permit
Summer Semester Parking Fees:
$10 – Automobiles
$5 - Motorcycles
$3 - DAY permit
Graduation and Certificate of Achievement Petition Processing 
Petitioning for an Associate in Arts or Associate in Science degree and/or Certificate of Achievement is a free service for the students.
Nonresident-International Student Tuition 
Nonresident and foreign students are required to pay enrollment fees as noted under "Enrollment Fees" in addition to nonresident tuition fees of $294.00 per unit and Capital outlay fee of 1$ per unit. Personal checks are not accepted for tuition or fees.
All fees are payable in full by deadlines published in the Schedule and available online at Self Service.
Fines and Holds 
Students having overdue library materials who do not return athletic equipment/uniforms, or have other outstanding book or other loans or fee balances, will have a hold placed on their records and be unable to register or receive official transcripts.
Failure to Clear Obligations 
A student is responsible for the clearance of all obligations at the college. A student who does not clear all obligations at the college will be denied further service by the college and the District, and outstanding balance information may be sent to collection agencies.​
Payments
Payments can be made online at Self Service. Use your credit card or mail a check with your student ID number to the address below (please do NOT send cash) or pay in person at the Office of Admissions and Records.
Evergreen Valley College
Business Services Office
3095 Yerba Buena Road
San Jose, CA 95135-1598
408.270.6514
Fee Worksheet.
1. Enrollment Fees: $46.00 per unit. =

​Units times $46.00

​2. Health Fee ​

​$21.00

​3. Student Activity Fee/ASB Stickers

​$5.00

​4. VTA EcoPass Fee

​$6.50 (5 or less units) or $11.00 (6 or more units)

​5. Material Fees – Charges Vary

​$

​6. Tuition for Non-Residents Only: $294 per unit=

​Units x $294
 

7. Non-resident/International Student  –
    Capital  Outlay Fee =
$1.00/per semester unit

​8. Student Representative Fee

​$2.00

     ​Add Lines 1 - 8                                       

=​TOTAL FEES